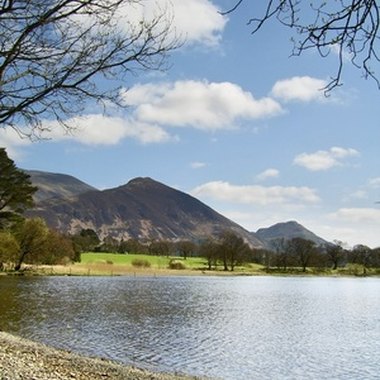 Bassenthwaite Lake is the northernmost lake in England's Lake District. It stretches southeast to northwest, about midway between Keswick and Cockermouth. Visitors come for hill walking, horseback riding, cycling, golfing, sailing on the lake, bird watching or just relaxing in this remote corner of the Lake District National Park. Though no large communities sit on the lake, several comfortable hotels, including two award winners, are clustered near the northern end of Bassenthwaite.
A Stately Home
Armathwaite Hall Country House and Spa, named Cumbria Tourism's "Large Hotel of the Year" in 2010, is a privately owned, 4-star luxury hotel. Much of the hotel dates from the 16th century though a hall of some kind has existed on this spot since the 11th century. The hotel is secluded amid its own 400 acres of deer park and woodland, bordered by the lake and framed by Skiddaw and other Lake District fells. It has 42 rooms and suites which range from traditional, English country house accommodations in the main house to more contemporary rooms and suites in the Spa. Rooms have views lake, garden or deer park views.
A Small Country Manor
Overwater Hall is an 18th-century country manor house that, in 2010, was named "Small Hotel of the Year" twice over--by Cumbria Tourism and in England's Northwest Tourism awards. The house is set in 18 acres of woodlands and gardens, near Skiddaw and the Uldale Fells, about two miles from Bassenthwaite Lake. The hotel has 11 nicely furnished rooms and suites. All have luxury bathrooms with double ended bathtubs and Gilchrist & Soames toiletries. As a special touch, the hot drinks trays in every room have fresh--rather than the usual long-life--milk, fresh fruit and flowers.
A Victorian Retreat
Ravenstone Hotel is a Victorian family home that was extended and turned into a hotel in the 1950s. The 19-room hotel retains many of its original 19th-century features. From its position, on a hill above Bassenthwaite, the hotel enjoys extensive lake views. Ravenstone offers a choice of standard and superior double and twin rooms as well as two four-poster rooms. The newer one -- the four-poster spa room -- has a whirlpool bath and walk-in shower.
A Contemporary Hotel
The Castle Inn, near the northern end of Bassenthwaite, is a Best Western hotel. Its standardized guestroom and bathroom decor has the most corporate feel of the hotels around this lake. It is, nevertheless, well positioned for walking and fishing breaks, close to the lake and to some of the highest of the lakeland fells. For avid walkers, the hotel offers five-night bed and breakfast breaks, with complimentary packed lunches, at a very reasonable discount from its normal price. It also sells daily and weekly licenses for fishing on Bassenthwaite.
Resources
Armathwaite Hall; Bassenthwaite Lake; Keswick; Cumbria CA12 4RE; 011-44-1768-776-551
Castle Inn Hotel & Restaurant; Bassenthwaite nr Keswick; Cumbria CA12 4RG; 011-44-1768-776-401