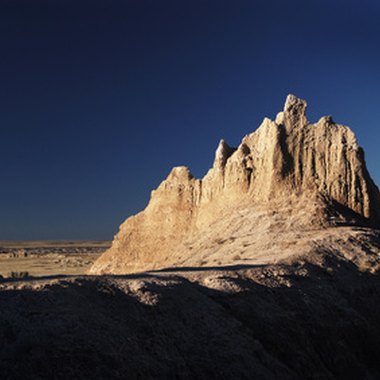 Preserving both prairie countryside and a desolate wasteland of rocky spires and buttes, Badlands National Park presents its visitors with two very different and sometimes extreme outdoor experiences. Visitors to the Badlands can seek the comfortable lodgings rather than camp out, but as there is only one hotel in the park, those in search of more choices will need to look outside the park's boundaries.
Climate
Weather in the Badlands can be extreme, and visitors should keep this in mind when choosing a hotel. Winter brings lows routinely as low as -10 degrees F, while summer highs can soar well over 100. Staying in an area motel without ample heat or air conditioning can make a visit to the area most unpleasant. A traveler with any doubts about either of these necessary amenities at a given hotel or motel should probably discard that place as an lodging option.
Cedar Pass Lodge
Cedar Pass Lodge is the only hotel operating in Badlands National Park, with all other accommodations found in the park's campgrounds. Located next to the park's main visitor center, Cedar Pass Lodge offers its patrons 24 rustic, white stucco cabins. Frommer's calls it a "the spot to see the Badlands at dawn and dusk," while Fodor's labeled the lodge as the best stargazing spot in all of South Dakota. However, "The New York Times" warned that the cabins are usually booked up several weeks in advance, so reservations are necessary.
Badlands Ranch Resort
Located on a 1,000-acre property about 6 miles from the park entrance and adjacent to an American Indian reservation, the Badlands Ranch Resort offers rental cabins, hotel rooms in the main lodge and an 11-room motel building. The ranch combines some of the luxuries of a resort, such as pool and hot tub, with the atmosphere of a campground through activities like a nightly cookout and bonfire. Frommer's recommends the top-floor honeymoon suite for its whirlpool bath and striking views of the Badlands.
Badlands Inn
An inexpensive option right outside of the main entrance to the park, the Badlands Inn is operated by Forever Resorts, the same contractor that operates the Cedar Lodge for the national park. It is almost as popular as its sister hotel in the park, with Fodor's warning that the inn's 22 rooms are usually full by early afternoon. The rooms are simple motel-style, but each has a view of Vampire Peak and the other pinnacles, buttes and spires of the park.