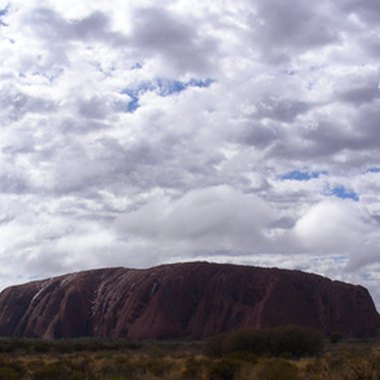 According to Uluru-Kata Tjuta National Park, more than 400,000 people a year visit the Uluru, the Australian natural and cultural monument also known as Ayers Rock. The closest lodging to Uluru is found at Voyages Ayers Rock Resort, which is located at the entrance to the national park. The resort consists of five distinctive hotels, the Ayers Rock Campground, the Emu Walk Apartments and Longitude 131, an eco-sensitive tented camp.
Sails in the Desert
Sails in the Desert is Voyages Ayers Rock Resort's premier luxury hotel. It was named the "favorite overseas leisure hotel" in Australasia and the South Pacific by Conde Nast Traveler in 2010. The hotel hosts the Mulgara Gallery, which showcases Aboriginal art, and original Anangu paintings are displayed throughout the property. The 231-room hotel's signature feature is its installation of white sail-like canopies that reflect the terra-cotta color of the surroundings and offer shade. The most spacious accommodations are the spa rooms with whirlpool tubs on their private balconies, and deluxe suites with living and dining areas, indoor whirlpools and multiple balconies.
Desert Gardens Hotel
The 218-room Desert Gardens Hotel is designed to complement its surrounding vegetation of flowering shrubs and ghost gums. Its most coveted, deluxe, rock-view guest rooms boast panoramic views of Uluru from a private veranda; deluxe rooms face other parts of the national park; and standard rooms offer views of the hotel's gardens. Guests have access to an outdoor swimming pool and sun lounges on a tree-shaded lawn. Other facilities include the Bunya Bar and Arnguli Grill.
Lost Camel Hotel
Lost Camel Hotel features urban minimalist-meets-Aboriginal decor and furnishings with contemporary photography displays and bold, brightly colored accents. Its low-level buildings house 99 guest rooms and surround a courtyard pool. Every room has one queen bed, but interconnecting rooms accommodate families and groups upon request. The lobby bar and lounge offer big-screen televisions and a casual atmosphere.
Outback Pioneer Hotel and Lodge
The rustic Outback Pioneer Hotel and Lodge presents two accommodation options -- guest rooms in the hotel and budget-friendly rooms with and without bathrooms. The on-site Bough House Restaurant offers buffet dinners, but many guests enjoy cooking their own meals at the DIY Outback Barbecue, a communal outdoor kitchen with multiple grills with all necessary utensils and equipment provided.
Hotels in Alice Springs
Although it is about 4 1/2 hours away by car, Alice Springs is the closest big city to Ayers Rock, and it offers ample hotel options for tourists heading to the national park. Tourism Central Australia lists more than 40 lodging establishments in and around Alice Springs on its website. The more affordable options include bed-and-breakfasts, budget motels and cottage resorts. For something more luxurious, consider an apartment hotel, an international chain hotel like the Crown Plaza Alice Springs, an eco-resort or a luxury hotel like Aurora Alice Springs, where the gourmet restaurant offers kangaroo and emu entrees. A handful of motels and campgrounds is found between Alice Springs and Ayers Rock.