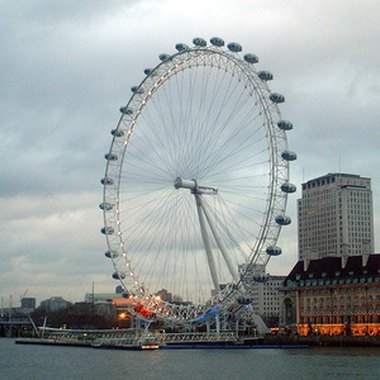 The players of Arsenal Football Club -- one of the major competitors in soccer's English Premier League -- are headquartered in Holloway, North London. The team plays its games at Emirates Stadium, usually before an at-capacity crowd of 60,000 people. The area boasts a number of hotels to house visiting fans who flock from all over the world to see their team play.
Five Kings Hotel
Five Kings Hotel -- located near the Tufnell Park tube station -- is a budget hotel located in a quiet area of North London. The Five Kings offers its guests a free bed breakfast, as well as affordable rooms that include TV sets, high-speed internet access and in-room shower facilities. Nearby attractions include the Odeon Cinema, and guests can dine at local bars and restaurants like London Mobile Bar, Stingray and Lalibela.
Mount Apartments Solutions
Mount Apartments Solutions, located just north of Emirates Stadium on Seven Sisters Road, offers travelers a home-away-from-home setup. The apartments -- available for rental on a nightly as well as more long-term basis -- include daily housekeeping services, free wi-fi, a direct phone line, large TV sets with satellite TV, fully equipped kitchens and a washer and dryer. Mount Apartments Solutions suites have a stylish modern decor. Nearby restaurants include Apollo Restaurant, Hana, Le Rif, El Molino and Star Barbecue Restaurant.
The Pembury Hotel
The Pembury Hotel is located less than a mile from Emirates Stadium, and is just a walk away from Finsbury Park Station. The hotel offers basic rooms that come with free wireless internet access and TV sets. The Pembury is right across the street from one of London's oldest parks, the Victorian-style Finsbury Park. Nearby dining and drinking options include the 12 Pins Pub, Senke Bar & Restaurant, Sunderban Indian Restaurant and Yidiz.
Hilton London Islington
The Hilton London Islington is a large hotel located in the fashionable Islington district of North London. In addition to Emirates Stadium, nearby attractions include the London Aquarium, Trafalgar Square and the Tower Bridge. This hotel offers large rooms -- standards and suites -- with contemporary decor; many rooms offer views of the city and have floor-to-ceiling windows. The hotel also offers amenities like a business center, wireless internet and meeting rooms. The Axis is the hotel's in-house restaurant, serving international cuisine and featuring the fully stocked Axis Bar.
Europa House Hotel
The Europa House Hotel is a family-run bed and breakfast that has been around since 1974. Located at 151 Sussex Gardens, the Europa is in the middle of North London, close to the Paddington tube station. Europa House offers affordable rates for very basic hotel rooms with private bathrooms and color-coordinating furnishings; a full English breakfast is included in the room rates, and is served in the hotel's main dining room. Local restaurants include Frontline Restaurant, Garfunkel's and San Marco Restaurant e Pizza.
Charlie's Hotel
Charlie's Hotel -- an elegant Edwardian structure built in the late 1800s -- is located in a quiet neighborhood near the Tufnell Park tube station, just minutes away from Hampstead Heath and Camden Market. The 24 rooms at this family-run bed and breakfast come with cable TV, free wi-fi and private bathrooms. Charlie's Hotel also offers guests free breakfast every morning. Local restaurants include Blue Moon Thai Cafe, Cafe Red and Nuhraghe.
Photo Credits
london eye at sunset image by Adam Edwards from Fotolia.com