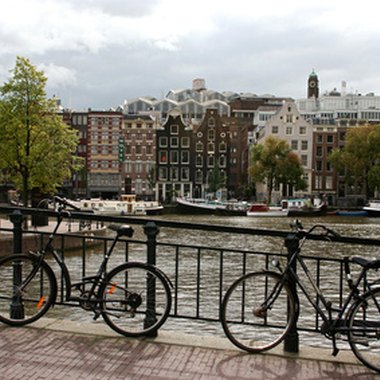 The Amstel River begins near the town of Nieuwveen and flows through Amsterdam from south to north before branching off into a series of canals in the city center. Many hotels dot the banks of the river within steps of the city's most famous sights, offering a picturesque setting in one of Europe's most picturesque cities.
Hotel Flipper Amsterdam
Located within steps of the Amstel River, Hotel Flipper Amsterdam offers guests rooms in a residential area in the southeastern part of the city away from the main tourist areas. Guests can easily reach the city center via the nearby subway or tram. The hotel has just 28 rooms, giving it an intimate atmosphere. All rooms have a simple design and come with basic amenities, wireless Internet access and en-suite bathrooms. The hotel serves a buffet-style breakfast each morning in the breakfast room. Hourly and daily public parking is available directly in front of the hotel.
Intercontinental Amstel Amsterdam
The historic Intercontinental Amstel Amsterdam has stood at the banks of the Amstel River since 1867. Since then, it has hosted a wide variety of guests including Walt Disney, the Tsar of Russia, Henry Kissinger and Steven Spielberg. The hotel's dramatic exterior opens to a marble floored lobby with grand staircase. The 55 guest rooms and 24 suites have an elegant design with furnishings and linens matching the hotel's construction period. Bathrobes, slippers and L'Occitane bath products come standard in every room. The on-site restaurant serves French Mediterranean dishes in setting complete with views of the Amstel River.
Hotel de l'Europe
Hotel de l'Europe in Amsterdam's city center opened its doors along the Amstel River in 1896. In 2010, it completed a major restoration of its 100 pet-friendly guest rooms, which now feature a comfortable modern design and the latest technological gadgetry like BOSE surround sound systems, iPod docking stations, flat-screen TVs and Nespresso coffee makers. Twice daily maid services and butler services are available. The hotel has a brasserie for casual dining and a fine dining establishment with live piano music entertains guests on the outdoor, open-air terrace overlooking the river.
NH Doelen
The NH Doelen puts guests along the Amstel River in Amsterdam's center, near the historic University of Amsterdam. Guests can walk to just about every sight in the city including the Red Light District, the Anne Frank House, Dam Square and Rembrandtplein. The hotel dates back to the 17th century and has hosted an array of famous guests including The Beatles and Queen Victoria. The lobby has an ornate design with decorative wall designs and a permanent library. Guest rooms come with basic amenities and a choice of pillows; room rates include a breakfast buffet. Bicycle rentals are available.