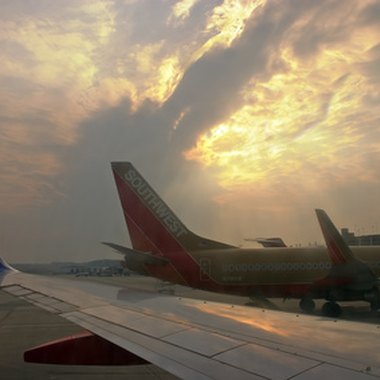 Hotels near Orlando International Airport offer a range of lodging choices business and leisure travelers. Accommodations include spacious suites with all the comforts of home, kid-friendly hotels, properties that offer airport parking packages or budget-friendly rooms for frugal travelers. The hotels are close to the Orange County Convention Center, the Florida Mall and the Beeline Expressway, which provides access to Orlando's theme parks.
Family-Friendly Hotels
The modestly priced Days Inn Florida Mall-Airport is near the Florida Mall, one of the largest shopping venues in the state. Hotel guest rooms feature traditional furnishings and complimentary Wi-Fi access, while suites provide separate living areas with pull-out sofas. Amenities include complimentary continental breakfast, a kiddie pool, family-friendly fun at Cali Lounge and discounted tickets to Orlando attractions. The hotel also offers complimentary airport shuttle service and arranges transportation to the city's major theme parks. Holiday Inn Orlando Airport Hotel offers fully-renovated guest rooms with contemporary furnishings, sofa beds and video game consoles. Hotel amenities include a heated lagoon-style pool, free dining for children under age 12 and 24-hour airport shuttle service.
Budget Hotels
Quality Inn and Suites Near Florida Mall is a budget-friendly property within walking distance of the Florida Mall and a five-minute drive from the Orange County Convention Center. The hotel offers several cost-saving, complimentary amenities such as continental breakfast, Wi-Fi access and airport shuttle service. Recreational amenities are highlighted by the outdoor pool with Koi pond and two waterfalls. La Quinta Inn Orlando Airport West is another affordable choice within minutes of the airport and the Beeline Expressway. Hotel accommodations include Wi-Fi access, airport shuttle service and a daily breakfast buffet. Recreational amenities include an outdoor pool and fitness center.
Suite Hotels
Residence Inn Orlando Airport offers extended-stay accommodations within minutes of the airport. Hotel guest rooms consist of contemporary one- and two- bedroom suites that contain fully equipped kitchens with stainless-steel appliances, separate dining areas and sofa beds. Hotel amenities include complimentary breakfast buffet, airport shuttle service and evening receptions with alcoholic beverages and light snacks. Sheraton Suites Orlando Airport Hotel features fully renovated two-room suites with warm decors that are reminiscent of an upscale country home. Guest rooms include mini fridges, small sinks, sofa beds and pool- or courtyard-views. Hotel amenities consist of a 24-hour airport shuttle, indoor and outdoor pools and a lakefront jogging trail.
Park and Fly Hotels
The Wingate by Wyndham at Orlando International Airport offers a "Park, Stay and Fly" package that includes parking for up to seven days and roundtrip airport shuttle service. Guest rooms range from standard accommodations with complimentary Wi-Fi access to romantic Jacuzzi suites. Hotel amenities include an outdoor pool, 24-hour fitness center and complimentary hot breakfast buffet. Hyatt Regency Orlando Airport is an AAA Four Diamond hotel connected to the airport. The property's "Fly Away" packages include valet- or self- parking for up to seven days and overnight accommodations in a well-appointed guest room. Hotel amenities include a fitness center stocked with the latest cardio equipment and circuit weights, a rooftop restaurant and a Romanesque rooftop pool overlooking airport's runways.
Resources
Days Inn Florida Mall-Airport;9301 S. Orange Blossom Trail, Orlando, FL, 32837; 407-855-0308
Holiday Inn Orlando International Airport ; 5750 T.G. Lee Blvd.; Orlando, FL, 32822; 407-851-6400