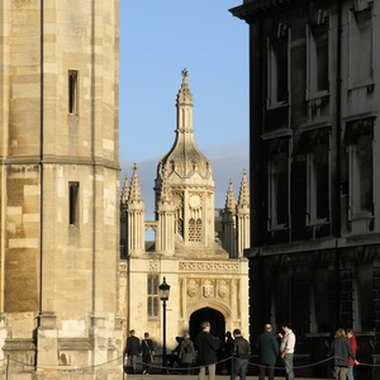 Addenbrookes Hospital is Cambridge University's main teaching hospital, associated with the university's School of Clinical Medicine. Since 1976 it has been located on the Cambridge Bio-Medical Campus, about two miles southeast of the city center. Most accommodations within walking distance of Addenbrookes consist of old-fashioned, if homey, guest houses and bed and breakfasts. But the hospital complex is easy to reach by bus from the city center, the rail station and the airport, where a selection of moderately priced hotels is available.
Traditional Value for Money
The Royal Cambridge Hotel on Trumpington Street, about two and a half miles from Addenbrookes, is one of Cambridge's oldest hotels. It actually occupies premises that were part of the original Addenbrookes Hospital in the 18th century. This is an old-fashioned hotel that seems due for a major refurbishment. Rooms vary from tiny, dark cupboards to spacious, well-proportioned rooms with high ceilings. The amount of different patterns -- wallpaper, carpets, upholstery bedding -- might keep some guests up all night. But for its location, on a historic street in the city center, this hotel offers very good value for the money.
Disabled-Friendly in the City Center
The Gonville Hotel, a Best Western Hotel, is barely recognizable as a late 19th-century building. Rebuilt in the 1970s and again in 1996, it has all the appearance of a substantial, 20th-century motel. Thirty-six rooms have been completely modernized since 2006, though a few other of the hotel's 80 rooms look dated. Two of the remodeled rooms have full disabled access and disabled facilities in the bedroom and bathroom. The hotel also has two rooms suitable for families or larger groups. The hotel, opposite Parker's Piece, a 25-acre city center open space, has ample free car parking and is around the corner from a direct bus route to Addenbrookes.
Cheap Digs With Home Comforts
Cambridge is full of bed and breakfasts and guest houses that range from grim and dire to frilly and old-fashioned. Tenison Towers, despite its sitcom cliché of a name (there are no "towers"), is a clean and friendly little place that comes highly recommended. The Guardian called it "one of the best B&B's in Cambridge." Both Lonely Planet and Let's Go Europe also suggest it. Tenison Towers is a few minutes' walk from the train station and about a mile from Addenbrookes.
A Practical Choice
The Holiday Inn Express in Cambridge is near Marshall Airport, the city's small regional airport, and about two miles from Addenbrookes, making it a good solution for visiting researchers, consultants and professors, as well as charter transport patients and their families. A modern budget hotel, The Holiday Inn Express has contemporary, functional rooms that are immaculately kept. Several family doubles have sofa beds for families with small children, while interconnecting rooms are available for families with older children. The hotel has five wheelchair-accessible rooms with wider doorways, accessible showers, grab rails and emergency cords.
Resources
Tenison Towers; 148 Tenison Road; Cambridge CB1 2DP; 011-44-1223-363-924
Photo Credits
cambridge university 5 image by Stanislav Halcin from Fotolia.com