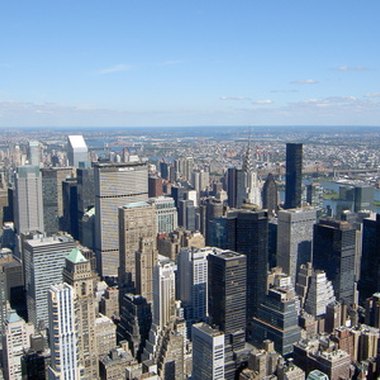 New York's 62nd Street runs east-west through the heart of Midtown Manhattan, and is divided into an east and west section by Central Park. Hotels on and near 62nd Street tend to offer the upscale amenities and services typical to Midtown, along with access to attractions such as the Museum of Modern Art, Carnegie Hall, Lincoln Square, and the recreational opportunities of Central Park.
1871 House
The 1871 House stands at the corner of East 62nd Street and Lexington Avenue, three blocks east of Central Park, in a quiet, residential area. This five-story brownstone dates back to, not surprisingly, 1871. It contains only a handful of rooms, seven in all, lending it a more intimate environment than most hotels. Each room comes individually designed in a country style, offering guests respite from New York's urban surroundings. All rooms have wireless Internet access. Guests can enjoy a gourmet breakfast basket or take in a meal at any of the many restaurants in the neighborhood.
The Lowell Hotel
The Lowell Hotel puts guests one block north of East 62nd Street, one block away from Central Park. The hotel welcomes guests with a free drink upon arrival. This European-styled establishment has a total of 72 guest rooms and suites, many of which feature fireplaces and terraces. The hotel's restaurant serves an eclectic mix of Asian/European-inspired American cuisine; dishes include filet au poivre and zucchini blossoms. Guests can arrange for a personal trainer at the on-site fitness center, and complimentary wireless Internet is available throughout the hotel.
Trump International Hotel & Tower New York
Guests of the five-diamond rated Trump International Hotel stay in one of New York's iconic hotels, soaring 52 stories above Central Park's southwest corner, one block south of West 62nd Street. The hotel's 176 apartment-style rooms have an upscale decor, with floor-to-ceiling windows providing unfettered views of the city and whirlpool tubs offering in-room relaxation. Forbes called the hotel's Jean-Georges restaurant one of the top 10 restaurant values in the world because of its high-quality offerings and reasonable prices. The on-site spa includes an indoor swimming pool and massage services and provides yoga instruction.
The Pierre
The Pierre overlooks Central Park at the corner of East 61st Street and Fifth Avenue. As part of the world-renowned, luxury Taj Hotel chain, this hotel offers AAA five-diamond quality, including rooms with Turkish marble baths, plush bathrobes and cozy slippers. In-room technology includes Bose surround-sound systems, large flat-screen TVs and laser color printers. Guests can arrange for personal assistants to help them with everything from shopping to reservations to getting dressed. The on-site fitness center stays open 24 hours and has personal trainers available upon request.
Photo Credits
New York Manhattan from the Top of Empire State Buildung image by kaempfi from Fotolia.com