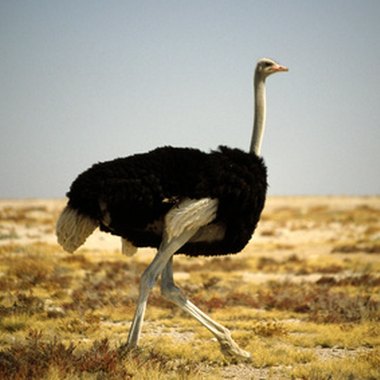 Lodging options in Namibia vary considerably by destination, with its capital, Windhoek, and other large cities presenting the widest choice in terms of Western-style hotels. In wilderness areas like national parks and private game reserves, you find game lodges and resort complexes that range from rustic to lavish, catering to safari-goers with guided excursions and all manner of on-site luxuries.
Ntwala Island Lodge
Ntwala Island Lodge sits on a cluster of islands surrounded by rushing waterways just outside Chobe National Park, 40 miles upstream from Victoria Falls. With only four guest chalets, which are connected to the lodge's main lounge, bar, library and elevated viewing deck by a network of floating walkways, it is an intimate resort in a spectacular destination. While luxurious chalet features like private plunge pools and over-the-river wildlife-viewing decks with swing chairs and day beds entice you to stay put, the real attraction of the lodge is the chance to see the natural wonders of Chobe National Park. Activities offered to guests include sunset boat cruises, guided island walks, game viewing by boat and fly fishing for tiger fish. Guests must be 12 years or older unless you choose to rent the entire lodge, in which case the age restriction is waived.
Swakopmund Hotel & Entertainment Centre
The 89-room Swakopmund Hotel and Entertainment Centre is partly housed within the old German colonial train station in the Namibian beachfront city of Swakopmund. In keeping with the historic architecture of the hotel, its 90 guest rooms and suites feature Victorian-style decor. The hotel's expansive entertainment complex includes the Mermaid Casino, two movie theaters, a gym, a hair salon and an Avis car rental desk. The on-site restaurant -- Platform One -- offers both an a la carte menu and a buffet spread for breakfast, lunch and dinner.
GocheGanas Lodge
GocheGanas Lodge is located about 18 miles from Windhoek on a 14,800-acre private nature reserve. It is situated on a hilltop, providing unmatched views of the surrounding wilderness, which is home to giraffes, zebras, cheetahs, leopards and rhinos, among other native species. After a day of game drives and guided walks in the reserve, guests can retreat to the Wellness Village, a spa with a heated indoor pool, a sauna within a granite cave and 11 treatment rooms. The main lodge building and 16 private chalets incorporate local materials and crafts, with thatched roofs, exposed beams, timber decks and stone-clad bathrooms.
Safari Hotels
Safari Hotels is a two-hotel complex in Windhoek, the capital of Namibia. The Safari Court Hotel offers 215 spacious guest rooms and suites; its presidential suite boasts a kitchen, a formal dining room and a private roof garden. The 200-room Hotel Safari offers more modest yet comfortable accommodations. The combined facilities of the hotels include a gym, a day spa, four restaurants and three bars, including a steak house, a pool bar and a beer garden. Guests are provided with airport transfers and a courtesy shuttle to the center of Windhoek.