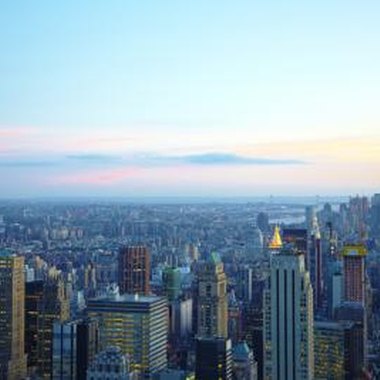 New York City's Murray Hill neighborhood is located in Manhattan and is also known as Lower Midtown East. It lies roughly between East 42nd and East 34th streets, and the East River and Madison Avenue -- give or take a street or two in any direction. Many of New York City's famous landmarks are in or near Murray Hill, including the Chrysler Building and the Empire State Building. The area has a number of hotels to accommodate visitors, as well as many restaurants and bars.
Affinia Shelburne
The Affinia Shelburne is a stylish boutique hotel with 323 rooms. Accommodations range from guest rooms of approximately 325 to 400 square feet, to two-bedroom suites sized at 700 to 950 square feet. The hotel also offers a deluxe studio, a one-bedroom suite and a one-bedroom deluxe suite, with some of the units featuring kitchenettes. The Affinia Shelburne has a restaurant and a rooftop lounge. Pets are welcomed to the hotel with a treat and a souvenir travel bowl to take home. The charge for pets is $25 per stay. If you wish to bring multiple animals or exotic pets, you must receive -approval at the time you make your reservations.
Grand Hyatt New York
The Grand Hyatt New York is directly adjacent to Grand Central Station, giving hotel guests easy access to the subway and bus systems. This hotel has over 1,300 rooms and suites, including hypo-allergenic rooms that have been specially treated to reduce allergens. Each of the Grand Hyatt New York's guest rooms features a granite vanity, a pillow-top mattress and a flat-screen television. Among the amenities offered at this hotel are a fitness center, dining facilities and a lounge.
Hotel Giraffe
The Hotel Giraffe is a boutique hotel that mixes modern touches such as flat-screen televisions with the hotel's art deco accents, Black-and- white photos from the1920s and 1930s grace the walls of the guest rooms and suites, infusing the decor with that time period's elegance. The Hotel Giraffe serves a complimentary breakfast buffet in the Grande lobby, and hosts a champagne, wine and cheese reception Monday through Saturday evenings. During the day, a complimentary selection of espresso, cafe au lait, cappuccino, cookies and fruits is available. Guests also receive complimentary NY Sports Club fitness passes.
Murray Hill Inn
Murray Hill Inn is an affordable boutique hotel near the Empire State Building. The no-frills six-floor, 50-room hotel is a good alternative for someone who is looking for inexpensive mid-town lodging that is located close to many tourist attractions. Depending on the time of the year and room type, units can cost under $90 a night; the price is as of 2010. Some of Murray Hill's rooms have private bathrooms; while others must share. The hotel does not have an elevator; nor does it have a restaurant on-site. However, it is close to many dining choices in the neighborhood.
Photo Credits
Thomas Northcut/Photodisc/Getty Images