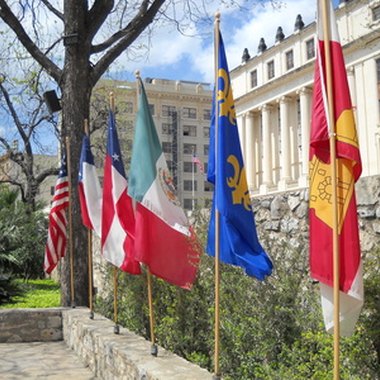 The Riverwalk in San Antonio is one of the city's biggest tourist attractions and is known as one most romantic places in Texas. Hotels and motels along the Riverwalk complement the Venice-meets-the-Alamo ambiance, as do the area's traditions and rich history. Accommodations on the San Antonio Riverwalk place visitors near several fine dining options and gift shops that sell quirky products and European fashions.
Holiday Inn San Antonio
One of the more affordable accommodations on the Riverwalk, the Holiday Inn San Antonio is near 18th century missions and three blocks from the Alamo. Guest accommodations include standard guest rooms, executive club level rooms and suites. All accommodations have a simple, soft country-inspired look, blue carpets and favor blue and olive green linens. The Holiday Inn San Antonio offers basic amenities; its highlights include the Riverwalk Bodega and Hill Country stonework in the lobby.
Drury Inn and Suites
The Drury Inn & Suites claims to be so close to the Riverwalk that guests can practically jump into the San Antonio River from their rooms. Southern hospitality lasts throughout the day with a complimentary hot breakfast that includes Belgian waffles with sausage and gravy, fountain drinks and popcorn in the lobby as an afternoon snack, and appetizers and cold drinks in the evening. Unlike many of the area hotels and motels, the Drury Inn offers free Internet. The exterior has a colonial look, and the guest accommodations have a Western bed and breakfast look with warm, dusty rose, cream and tan colors. In-room amenities include complimentary 60-second long-distance calls, a microwave and a mini-refrigerator.
Marriott San Antonio Riverwalk
The Marriott San Antonio Riverwalk places guests next to the San Antonio Convention Center. The 30-story, Texas-style hotel has a contemporary lobby with Western accents such as wrought-iron features, bridal balconies, dark wood trim and walls as red as chili peppers. Accommodations feature mission-inspired decor, leather furnishings and balconies that overlook the Riverwalk and the downtown area. Some of the best features of the Marriott are its on-site restaurants, such as the Cactus Flower Restaurant and the Knibble Ranch, which features a "Cowboy Dinner" in a barn-style hall.
The Fairmount
Claiming to be "The Jewel of San Antonio," The Fairmont hotel is a Victorian-inspired accommodation housed in a colonial-style brick building. The hotel was established in 1906, and each room features a different Victorian theme decorated with European silk fabrics, antiques and balconies that overlook HemisFair Park. Additional amenities in select rooms include sitting parlors, canopy beds, in-room Jacuzzi tubs and on-site limousine services.
Photo Credits
Alamo grounds - six flags image by Olivia Ogden from Fotolia.com