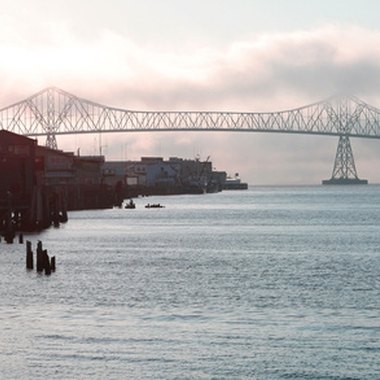 Oregon's rocky coastline features over 300 miles of sandy beach. The Oregon coast is home to historic lighthouses, rocky headlands and wildlife such as gray whales and harbor seals. Along the coast are numerous seaside towns worth visiting, featuring a variety of hotel and motel accommodations to suit your needs. For a memorable holiday by the Oregon seaside, look for hotels that are either within walking distance from the beach or overlooking the water.
Cannon Beach
Cannon Beach is a small seaside town filled with boutiques and galleries. Home to wide stretches of sandy beach, the pounding Pacific Ocean and sea cliffs, Cannon Beach was named one of the World's Best Beaches by the Travel Channel. You'll find a wide choice of bed-and-breakfast and motel accommodation in Cannon Beach. One option is the Land's End Motel, located just steps away from the ocean. Accommodation consists of studios and suites. All but one room in the motel has a fireplace, and all suites have kitchenettes. Amenities include an outdoor hot tub and a terrace that looks out on the water. For dining, the town of Cannon Beach is just a short walk away and offers numerous restaurant and cafe options.
Astoria
According to Fodor's, Astoria is the oldest city west of the Rocky Mountains. It's located where the Columbia River meets with Pacific Ocean. Today it is a busy resort spot for visitors making their way along the Oregon coast. The Hotel Elliott is a boutique hotel that was built in 1924 and still retains much of its grandeur. The hotel's rooftop terrace offers expansive views of the water and the Astoria-Megler Bridge. Room amenities including plush robes and fireplaces in most rooms. The hotel has no on-site dining, but you'll find a wide array of dining choices in Astoria.
Newport
Newport is a laid-back seaside city, home to many attractions including the Oregon Coast Aquarium. The Elizabeth Inn stands on a bluff that overlooks the ocean. Despite its picturesque location, the hotel is just walking distance from Newport's many shops and galleries and its performing arts center. All rooms offer an ocean view and include such amenities as a fireplace and bathrobes. Although the hotel has no on-site dining, a complimentary hot buffet breakfast is served daily. Other amenities include an indoor pool and Jacuzzi spa and fresh-baked cookies served daily. Salmon chowder is also available for guests during cooler months.
Seaside
Seaside is another small resort town just an hour and a half away from Portland. The town is known for its arcade games, miniature golf, saltwater taffy and the Promenade, which makes it an attractive location for visitors with families. Located on the Promenade, an 8,000-foot-long concrete boardwalk leading from central Seaside to the beach, is the Seashore Inn. Most rooms at the Seashore offer beachfront views; other amenities include a complimentary continental breakfast -- the only one offered on the Promenade -- and an indoor heated pool and hot tub.