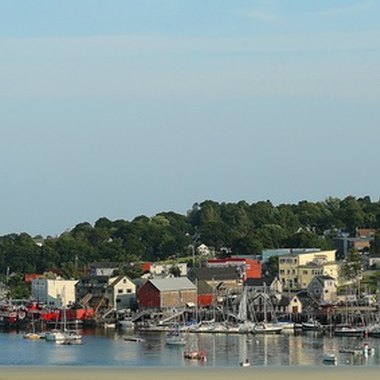 The Ocean Gateway Pier in Portland, Maine, handles traffic from cruise ships, tour boats and other seafarers. This pier represents an evolution of the city's economy from fishing and commercial shipping to tourism. Travelers passing through the Ocean Gateway Pier gain immediate access to shops and eateries in Portland's Old Port neighborhood. Tourists need not stray far from these attractions to find hotels, motels and inns near downtown Portland.
Bed and Breakfasts
Bed and breakfasts such as the Inn at St. John surround guests with New England traditions. Guests at the Inn at St. John walk into a brick building that has been largely unchanged since 1897. This inn furnishes its 39 guestrooms with bedding, chairs and drapes reminiscent of the Victorian era. The Pomegranate Inn welcomes guests with carefully manicured trees and bushes surrounding the front door. Patrons of the Pomegranate Inn can view paintings from regional artists on display throughout the inn.
Motels
Motels near the Ocean Gateway Pier meet the needs of budget-conscious travelers. The Maine Motel provides basic rooms and suites halfway between the pier and the airport. This property keeps guests connected to the world with free wireless Internet and premium satellite television. The Motel 6 Portland eases travel costs for families by offering free accommodations to kids under 12 years old. Guests can stay close to their rooms by shopping at nearby Westbrook Crossing and dining at Kon Asian Bistro.
Spa Hotels
The Portland Regency Hotel & Spa accommodates travelers looking to relax between trips to the pier. This hotel offers massages, facials and organic skin treatments at the first-floor health spa. Guests returning from the Old Port can sit down for steaks and seafood at the hotel's Twenty Milk Street. The Armory Lounge within the hotel serves appetizers and cocktails in a relaxed environment. Travelers just looking to kick back after touring Portland will find leather chairs and books in the hotel lounge.
Chain Hotels
Downtown Portland contains several chain hotels designed for vacationers of all types. The Hilton Garden Inn Portland Downtown Waterfront keeps its business center and pantry open 24 hours to meet guest needs. Travelers can fill up on eggs, bacon and cereal at the hotel's Great American Grill before heading to the Old Port. Another chain hotel is the Holiday Inn By the Bay, which offers rooms with views of downtown and Casco Bay. Guests are able to stay in shape at the first-floor gym and dine at the Port of Call Restaurant.