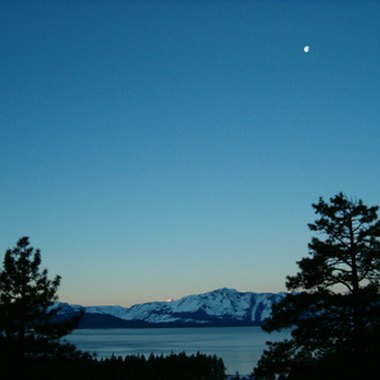 The largest alpine lake in North America, Lake Tahoe attracts visitors throughout the year but particularly in winter and summer – seasons when the region's world-class skiing and warm-weather recreation activities lure guests from across the globe. While there is an abundance of hotels and motels in Lake Tahoe, the sheer volume can be overwhelming when trying to decide where to stay.
Winter Locations
Snowfall averages 300 to 500 inches annually at alpine skiing elevations, according to Virtual Tahoe.com, making it a prime destination for winter travelers. The Royal Gorge Cross-Country Ski Resort is North America's largest ski resort, according to Lonely Planet.com. Cross-country skiers can enjoy the area's 90 ski trails before retiring to the resort's ski-in, ski-out suites at Ice Lakes Lodge. Lonely Planet.com describes Alpine Meadows Ski Resort, located six miles from Tahoe City, as a no-nonsense resort with a custom-designed terrain park for optimized skiing. The resort can help connect guests with hotels and motels best suited for custom needs in locations around Lake Tahoe.
Summer Locations
Tahoe Lakeshore Lodge & Spa offers lakefront access to hotel guests wanting to spend plenty of time relaxing on the private sandy beach. Guests can enjoy a heated pool, sauna, hot tub, volleyball court and access to outdoor grills and tables. The resort also offers free music concerts on the beach during summer. The Hyatt Regency Lake Tahoe Resort, Casino & Spa, a AAA Four-Diamond venue, offers an alpine lodge feel with perks including catamaran lake sails, fire pits to keep warm while star-gazing and ATV tours.
By Region
Lake Tahoe is 22 miles long and 12 miles wide, with different regions known for their exciting nightlife, rustic quiet or emphasis on outdoor activity. Ferrari's Crown Resort motel in King's Beach, exemplifies the North Shore's commitment to family-friendly outdoor activities, with its private beach access, lakefront barbecue grills and convenient access to kayak, parasailing and jet ski rentals. The South Shore's Mont Bleu Resort & Casino, on the other hand, offers quintessential Tahoe pizzazz, with regular concert and entertainment performances, poker tables, eucalyptus steam rooms at their on-site spa and lagoon-style indoor pool.
Guest Considerations
You may want to select your Lake Tahoe hotel or motel based on specific guest considerations. Pistante's Coyote Den Motel in South Lake Tahoe is a pet-friendly venue with spill-resistant rubber mats to firmly anchor food bowls and drinking dishes. The Ridge Tahoe Resort offers special wedding packages featuring discounted site fees, complimentary champagne toasts, banquet menus and both indoor and outdoor reception sites. Brides can purchase a "Princess Package" at the resort's spa to receive a massage treatment and skin care. Special room rates are offered for wedding parties and their guests.
Photo Credits
lake tahoe sunrise image by Scott Schwartz from Fotolia.com