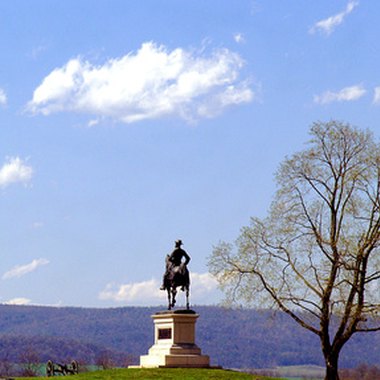 In early July 1863, the deadliest battle of the Civil War was fought in Gettysburg, Pennsylvania. The three days of bloody fighting claimed more than 51,000 casualties and was eventually won by the Union. Most historians view Gettysburg as the turning point of the war in favor of the Union. Gettysburg is also famous for being the location of President Abraham Lincoln's famous Gettysburg Address. Lincoln gave the two-minute speech on Nov 19, 1863 at the dedication of Gettysburg's Soldiers' National Cemetery, just a few short months after the deadly battle. Today, between two to three million visitors a year come to see for themselves the site of these famous historical events.
Historic Hotels
After touring the historic battlefields and other sites of Gettysburg during the day, spend the night at the Gettysburg Hotel, one of only 220 Historic Hotels of America in the United States, which is a program of the National Trust for Historic Preservation. The 119-room Gettysburg Hotel, which was established in 1797, boasts a grand ballroom and an on-site old English Pub. The hotel is located in the middle of downtown Gettysburg and is within walking distance of the battlefields.
Haunted Hotels
Small and intimate and possibly haunted, Farnsworth House Inn is a bed and breakfast with a lot of history. This inn was built in 1810 and still has its original walls, flooring and rafters. During the Civil War, a woman was accidentally killed in the home by a Confederate soldier. One hundred bullet holes that struck the home during the war still remain in the south side of the house. The nine-room Farnsworth House has been featured on the Travel Channel as one of the most haunted inns in America.
Hotel with a Museum
Civil War buffs will find much to like about Quality Inn at General Lee's Headquarters. The hotel, originally built in the 1830s, overlooks the battlefield and offers complimentary admission to view Civil War artifacts at the adjacent General Lee's Headquarters Museum. Accommodations range from standard hotel rooms to guest rooms in the small building that was once General Robert E. Lee's headquarters and which is now part of this hotel facility. The Quality Inn at General Lee's Headquarters also has a micro brewery and restaurant on site.
Considerations
Every year, thousands of reenactors descend on the town of Gettysburg for the annual Gettysburg Civil War Battle Reenactment, held in early July each year. During this time period, hotel and motel rooms can be hard to book. In 1998, for instance, the largest reenactment was held in Gettysburg. It drew more than 41,000 reenactors and over 45,000 spectators. The Annual Gettysburg Civil War Battle Reenactment and Gettysburg.com websites list hotels available in the area.