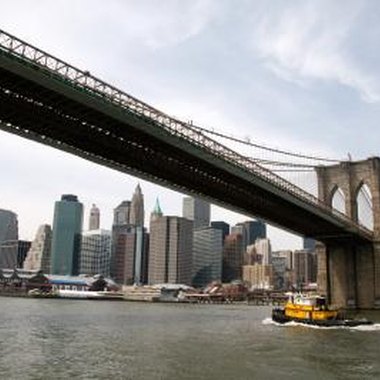 From charming Victorian bed-and-breakfasts to upscale boutiques with in-room hammocks, Brooklyn has an eclectic mix of accommodations. In general, expect larger rooms than in Manhattan. Many of the hotels are also conveniently located near major subway lines, allowing you to visit Manhattan's attractions with ease. Especially noteworthy are Brooklyn's large collection of bed-and-breakfasts in restored brownstones.
Bed-and-Breakfasts
Brookyln is chock-full of bed-and-breakfasts that exude broad appeal. You can't beat the location and rates at Awesome Bed &Breakfast, minutes away from seven subway lines with rooms starting at just $60 a night. Another option is the Baisley House, a stately Victorian house featuring vintage antique furniture and a lovingly maintained outdoor rose garden. Located in Carroll Gardens, the hotel is only about 12 minutes from the Lower East Side. In Park Slope, Bed & Breakfast on the Park makes a good resting spot; the hotel is just across the street from Prospect Park.
Boutique Hotels
If bed-and-breakfasts are too quirky for you, Brooklyn also has a number of sophisticated, modern boutique hotels. The Nu Hotel stands out from the rest because of its great location, minutes from the subways to Manhattan, and its innovative, eco-friendly rooms featuring cork-flooring. Some of the larger suites even feature in-room hammocks. Another solid option is Hotel Le Bleu, located on industrial Fourth Avenue, featuring balcony views of the Manhattan skyline. Le Bleu also offers complimentary breakfast and wireless Internet.
Moderately Priced Chain Hotels
With an Olympic-length indoor swimming pool and a 1,100-car garage, the Brooklyn Marriott has the kinds of perks you could never find at a Manhattan hotel, where land is much more scarce. Rooms are large, and the hotel is just minutes from über hip neighborhoods like Brooklyn Heights, Cobble Hill, Carroll Gardens, and DUMBO and the Brooklyn Bridge pedestrian path. The similarly priced Sheraton Brooklyn has a large pool, solarium, whirlpool and 24-hour fitness center and is also well-located, just two miles from the Botanical Gardens and three miles from the Statue of Liberty.
Budget Motels
Brooklyn also offers many budget motels. According to Motels.com, the cheapest rooms can be booked at Red Carpet Inn, Quality Inn and America's Best Value Inn, all starting around $80 a night. Expect bare-bones accommodations at these locations. For just an extra $10 a night, you could also stay at a recently refurbished Holiday Inn Express at either the Union Street or Butler Street locations. Amenities include a complimentary breakfast and access to an on-site business center.
Photo Credits
Jupiterimages/Photos.com/Getty Images