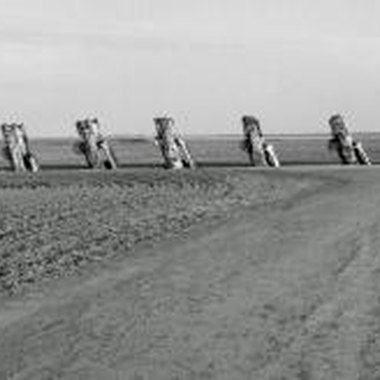 Amarillo, Texas, sits 25 miles northwest of Palo Duro Canyon State Park, a 25,000-acre state park where "Texas," an outdoor musical drama, is performed, making it an ideal base for a trip to this park. Guests travel to Amarillo to explore the canyon and see other attractions, such as the Amarillo Zoo and the Wonderland Amusement Park. The city offers lodging near the airport, in the downtown region and to the south and west of downtown.
Lodging Near the Airport
Super 8 Amarillo Central offers lodging with convenient access to Interstate 40 near exit 72A on the southwest corner of the airport. This hotel offer standard motel amenities and welcomed pets for a $10 per day fee, as of 2010. Microwaves and refrigerators are available in the rooms by request. The Holiday Inn Express Amarillo East sits just south of the airport near the intersection of I-40 and Airport Boulevard. Rooms here feature triple-sheeted beds, mini refrigerators and free Wi-Fi. The Holiday Inn Express has a small business center, indoor swimming pool with hot tub and a fitness room. All guests receive a complimentary hot breakfast. America's Best Value Airport Inn and Suites offers standard rooms and two-room suites for travelers who need to stay near the airport. The hotel serves a free hot breakfast in the morning and offers complimentary Wi-Fi in the rooms. Guests may exercise in the on-site fitness center, shoot hoops in the basketball court, play tennis on-site or swim in the outdoor pool during their stay. A McDonald's next door to the hotel accommodates dining needs, as well as a Waffle House and Subway within two miles of the hotel.
Hotels Downtown
The Ashmore Inn and Suites near downtown Amarillo offers standard rooms, suites, extended-stay rooms and apartments for corporate travelers. All rooms have microwaves and refrigerators, with kitchen facilities in some suites, extended-stay rooms and apartments. Each day the hotel offers a continental breakfast, with snacks and beverages served during a late-afternoon hospitality hour Monday through Thursday. The hotel also has an indoor pool with whirlpool and a fitness center. All rooms are Wi-Fi-equipped. At La Kiva Hotel and Convention Center, you can get a free shuttle to or from the airport or local truck stops. Rooms here include standard rooms and two-room suites. Suites have refrigerators, microwaves and a wet bar, but no cooking facilities. The separate sleeping and living areas give guests here a little space to spread out during their stay. The hotel has meeting rooms that hold up to 125 people for conferences and events. It also has an indoor pool with hot tub, games area with arcade games and pool table. Guests may dine on a hot breakfast each morning before visiting downtown, which is just one exit away via I-40.
West Amarillo Hotels
The Baymont Inn and Suites sits just off of I-40 to the west of downtown Amarillo. Within a mile of the hotel, guests find dining options such as Bennigan's and Red Lobster. The hotel offers a fitness center, business center, outdoor pool and daily complimentary breakfast. If you need a little extra space during your stay, the hotel has both adjoining rooms and suites. Baymont Inn and Suites is pet-friendly. If your budget is tight during your trip to Amarillo, consider the Travelodge on Exit 68A. This pet-friendly hotel offers free Wi-Fi and a daily complimentary hot breakfast and has two-diamond status from AAA. In 2010 the hotel had rooms for less than $50 a night. It has a heated outdoor pool and offers guests the option to work out in the nearby Gold Gym.
South Amarillo Hotels
Comfort Suites South Amarillo sits 12 miles south of the airport near popular attractions like the Amarillo Zoo and Cadillac Ranch. It offers guests a free full hot breakfast as well as Wi-Fi access, exercise facilities and an indoor pool, sauna and hot tub. The all-suite hotel has a three-diamond rating from AAA, and each room has a microwave and refrigerator. Days Inn Amarillo sits eight miles south of downtown along I-27. This hotel welcomed pets for $20 per stay, as of 2010, and all rooms are equipped with a refrigerator and safe deposit box. The hotel serves a free continental breakfast.
Photo Credits
Jupiterimages/Photos.com/Getty Images