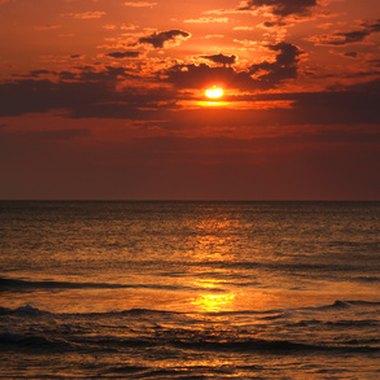 During the spring, fall and winter, dogs are allowed to romp on the shores of Virginia Beach and the city's three-mile-long boardwalk. Your pet's beach time, however, is limited during the peak summer period to the areas north of 42nd Street or to the Sandbridge area in the southern end of Virginia Beach and only before 10 in the morning or after 6 pm. Virginia Beach has a number of pet-friendly hotels and motels, making it a great destination choice if you want to bring your furry friend along on your next vacation.
Residence Inn Virginia Beach Oceanfront
Enjoy oceanfront accommodations with up to two pets at the 14-floor Residence Inn Virginia Beach. This hotel offers a complimentary breakfast, and each of its 72 suites has a full kitchen where you can cook meals and save even more on dining costs. Rooms at this hotel, which is on Atlantic Avenue, are also available on an extended-stay basis. The Residence Inn's location near 32nd Street means that it is in a quieter section of Virginia Beach, away from the bustling area nicknamed Beach Street USA, which is the Atlantic Avenue main strip between 17th and 25th streets. There is no size limit on pets, and both cats and dogs are allowed. The hotel charges a non-refundable sanitation fee of $75 -- as of 2010 -- but there is no daily charge for pets.
Wyndham Virginia Beach Oceanfront
Spoil your four-legged friend with a stay in one of the Wyndham Virginia Beach Oceanfront's five designated rooms for pets. This oceanfront hotel is located at 57th and Atlantic Avenue in a quieter section of Virginia Beach, away from the Beach Street scene and also past where the boardwalk ends near 39th street. As of 2010, the Wyndham charges a $25 per pet fee for up to two animals weighing under 25 lbs., but no deposit is required. The pet rooms are non-oceanfront, but each features a patio that leads out onto a grassy lawn area. Both cats and dogs are welcome at the Wyndham.
Doubletree Hotel
If having an oceanfront hotel during your Virginia Beach stay is not top on your priority list or you are attending an event at the Virginia Beach Convention Center, book a room for you and up to two of your pets at the Doubletree Hotel Virginia Beach. The hotel is located only eight blocks from the beach and provides a seasonal shuttle service to the ocean for its guests. The Doubletree Hotel Virginia Beach is also conveniently located next to the Virginia Beach Convention Center and has an on-site restaurant. Two pets, up to 40 lbs. each, are allowed per room at the Doubletree with a non-refundable deposit of $25, plus a $25 a night per pet fee. Both cats and dogs are welcome at the Doubletree.
Candlewood Suites Virginia Beach/Norfolk
This Candlewood Suites Virginia Beach/Norfolk is located near the trendy Town Center section of Virginia Beach, which is home to many fine restaurants, bars, shops and the Sandler Center for the Performing Arts. Pets under 80 lbs. are welcome at the four-floor Candlewood Suites, which is only a 10-minute drive from the beach. The Candlewood charges either a one-time non-refundable fee of $75 for your pet's stay under six days or $150 for a stay that lasts seven days or longer. A doggie area with waste clean-up bags for your convenience is located at the rear of the building. The hotel requests you call to find out the number of pets allowed before your stay. Both cats and dogs are welcome at the Candlewood.
Photo Credits
the sunrise at virginia beach image by Gary from Fotolia.com