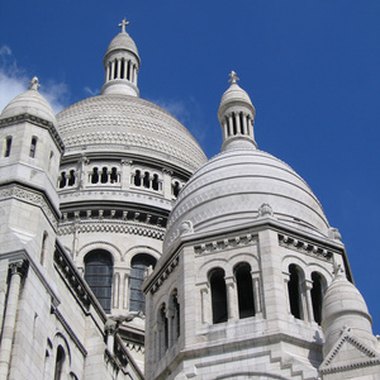 The Paris district of Montmartre features several of the city's best-known tourist attractions, including the imposing hilltop Sacre Coeur Basilica and the famous Moulin Rouge cabaret. Ample hotel options exist in Montmartre, including chain hotels and boutique hotels that suit visitors with varying budgets. Visitors who choose to stay in Montmartre, which was once called home by Van Gogh, Picasso, Monet and Dali, among other artists, will find that the entire city of Paris lies within easy reach via comprehensive public transport links.
Terrass Hotel
The 98-room Terrass Hotel occupies a turn-of-the-century building in Montmartre within walking distance from Sacre-Coeur and the Moulin Rouge. Many of its guest rooms boast views over the rooftops of Paris to the Eiffel Tower. The decor varies from room to room, with some incorporating art deco lines and others with contemporary furnishings and bold color accents. All the rooms feature complimentary wireless Internet access; the suites offer a steam room or jetted bathtub. The on-site restaurant, Le Diapason, offers street views through its bay windows with set menus that change with the season. The hotel also offers two bars, and in summer months, guests can enjoy cocktails and hors d'ouevres on the rooftop terrace.
Mercure Paris Montmartre
Mercure Paris Montmartre boasts a location at the foot of Sacre-Coeur, with many stores, restaurants and public transport links close by. The hotel is soundproofed to ensure a peaceful stay within the bustling heart of Montmartre, and it offers a tourist information desk for assistance with planning excursions all over Paris. The 305 guest rooms feature stylish modern decor with bold accents and include complimentary wireless Internet access. The on-site bar offers light meals and comfy seating.
Hotel Regyn's Montmartre
Hotel Regyn's Montmartre is located within steps of some of Montmartre's most notable attractions, including Sacre Coeur and the church of Saint-Jean de Montmartre, which is directly opposite the hotel. The boutique hotel's bright decor includes a wall fresco of the vineyards of Montmartre in the reception area, while the 22 guest rooms feature a retro look incorporating French pastoral toile du jouy motifs. Contemporary in-room amenities include LCD-screen televisions with satellite channels, wireless Internet access and environmentally friendly bath products. The rooms on the upper floors offer the best views over Paris. Guest services include booking tables at restaurants and tickets for shows.
Hotel Ibis Sacre Coeur
Hotel Ibis Sacre Coeur, part of the Ibis hotel chain, sits at the foot of the Butte de Montmartre hill and less than 10 minutes from two major railway stations. In addition to its 68 guest rooms, the hotel offers a bar, an all-you-can-eat breakfast buffet and 24-hour snack service. Wireless Internet access is complimentary throughout the property. The guest rooms are decorated with a clean, unfussy style and equipped with satellite televisions and desks. Pets are welcome for an additional fee.