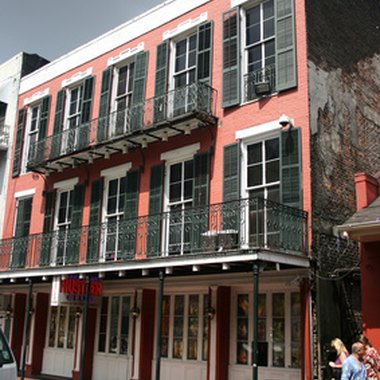 New Orleans draws millions of visitors each year to its annual lineup of festivals and conventions, including the world-famous Mardi Gras. The city boasts lodging of every description, from high-end suite hotels to youth hostels and guest houses. Military rates can result in significant savings, but check the fine print on any offer. Many properties do not honor military rates during special events. Some hotels offer government rates, which include military members as well as civilian government employees.
Budget Hotel Chains
Choice Hotels offers 22 properties throughout New Orleans and the surrounding area under such well-known brands as Econo Lodge, Clarion and Comfort Inn. All Choice Hotels offer standard budget hotel amenities and military rates. The Super 8 New Orleans is located on Chef Menteur Highway in New Orleans East. Although the hotel is several miles from the main tourist districts, if you have a car, the drive is relatively simple. Unlike many budget options, the Super 8 provides a free continental breakfast, free wireless Internet and an outdoor swimming pool. Government rates offer a small savings on the already-low rack rates.
Deluxe Chains
Marriott and Holiday Inn offer hotels throughout the city at a variety of price points and amenity levels, from the high-end JW Marriott in the central business district to the Holiday Inn Express in New Orleans East. Marriott offers specific military rates, while Holiday Inn offers the more-inclusive government rate. Sonesta is a small but rapidly growing hotel chain with hotels concentrated in Egypt and South America. The company also operates a few properties in North America, including the Royal Sonesta in New Orleans on Bourbon Street. The Royal Sonesta is an elegant choice, and government rates bring the price of this decidedly upscale hotel in line with nearby chain alternatives.
Historical Interest
The French Quarter is the oldest section of New Orleans, with many buildings dating to the late 1700s. The Maison Dupuy Hotel provides the quintessential French Quarter experience, complete with wrought-iron balconies and intimate courtyards. The hotel offers military rates of 50 percent off the brochure price through its Salute to Heroes program. The Hotel Monteleone is a classic example of French Quarter hospitality. A member of the Historic Hotels of America, the hotel was purchased by the Monteleone family in 1886. Today it is one of the last family-owned and operated hotels in New Orleans. This upscale yet friendly property is reportedly haunted and has been featured in dozens of films and television series. Government rates represent a significant savings on all levels of rooms and suites.
Special Considerations
Some hotels offer one rate for military and government leisure travel and a lower rate for those traveling on official government or military business. Some hotels offer military or government rates only to those on active duty, while others extend the rates to retirees, veterans and reservists. Always call the hotel directly to ensure that you receive the lowest rate for which you qualify.