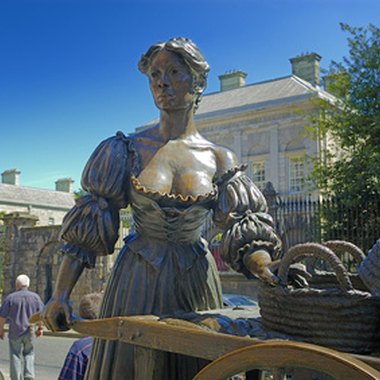 Merrion Road is located in Ballsbridge, Dublin. It does not have a lot of hotels, but the ones it has mix in good company, with wealthy private homes and the US Embassy and the British Embassy -- all within a short walk. The area provides an ideal base for exploring Dublin, with plenty of pubs, restaurants, parks, museums and theaters within walking distance or a short drive away.
Bewley's Ballsbridge
Bewley's Hotel in Ballsbridge offers modern accommodations in a 19th-century building originally built as a Masonic school that still retains many of its original features. The building's exterior consists of brown brick, which gives it a non-hotel-like look. The hotel's most special feature is its event hall, which has a wood-paneled cathedral ceiling and oak walls, as well as stained-glass windows. Situated just outside of Dublin's city center, the hotel allows you to enjoy Dublin's attractions without having to experience the full brunt of the city's hustle and bustle. Next to the hotel, you will find the RDS, whist hosts events throughout the year, such as the Dublin Horse Show and the National Crafts and Design fair, which attracts hundreds of vendors each year. Amenities that make Bewley's stand out include free Internet, family rooms, sound proofing and a carvery.
Four Seasons Dublin
Dublin's Four Seasons, at the corner of Merrion and Simmons Court roads, overlooks the RDS. The hotel features all the luxury comforts you would expect from a hotel of this class, including a spa, separate showers and deep soaking tubs. The hotel also caters to families, providing child-size bathrobes, kid's menus and toiletries, child care, games and, best of all, a welcome treat for kids in the room on arrival. From the hotel, you can easily reach Dublin city center by jumping on any bus that says "an lar," meaning center in Irish, or by foot for the health conscious. You can reach many of Dublin's major attractions, such as the Natural History Museum, Trinity College and Christ Church Cathedral, within 20 minutes.
Merrion Hall
Merrion Hall is a small boutique hotel situated in a converted Edwardian manor house. Special features of Merrion Hall pointed out by Frommer's include lounges with open fires and one of Ireland's largest private contemporary art collections. In the hotel drawing room you can sample fine wine or experience traditional afternoon tea. Some rooms have king-size, four-poster beds, and you can book a room to include a full Irish breakfast. All rooms have access to free Wi-Fi. The hotel is within easy reach of Dublin's main shopping area, Grafton Street and the O2 Theatre.
Blakes Hotel and Spa
Blakes Hotel and Spa has a modern feel and an Austrian-themed spa. Delights that await guests in the spa include a Finnish sauna, outdoor pool consistently heated to 98.6 degrees Fahrenheit and herbal steam baths. In the hotel's library you can relax with a glass of wine or cup of tea while reading one of the Irish or International books available. Blakes Hotel and Spa provides guests with free parking, a great perk for a city where parking is scarce and pricey.
Photo Credits
dublin molly malone monument image by apeschi from Fotolia.com