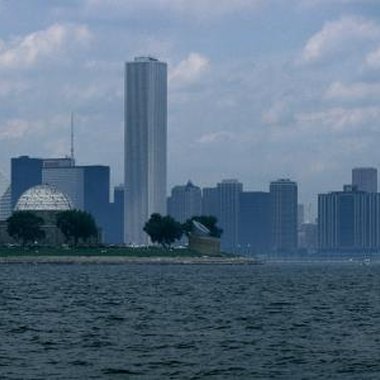 Part of the Chicago metropolitan area, Merrillville is a city of about 30,000 in Lake County, Indiana. Visitors to Merrillville have a broad selection of hotels from which to choose, covering most types of accommodations, including some extended-stay properties and a pet-friendly hotel. A hotel in Merrillville provides an excellent base for exploring Lake County, as well as Chicago, which lies 42 miles to the north-northwest of Merrillville.
High-End Hotel
Just a 20-minute drive from the Indiana Dunes National Seashore and other Lake Michigan beaches, the four-story, 343-unit Radisson Hotel at Star Plaza is linked to the Star Plaza Theatre, a 3,400-seat concert venue. The Radisson's atrium features a tropical garden and waterfalls. Facilities include a full-service spa, two swimming pools, hot tubs, an exercise room, a business center and two restaurants. With average nightly rates in the three figures, this hotel is the only Merrillville property in the high-end category.
Midscale Hotels
Four Merrillville hotels offer moderately priced accommodations. All are near Interstate 65, the main north-south route through the Merrillville area. The two-story, 112-unit Courtyard by Marriott Merrillville; three-story, 64-unit Hampton Inn Merrillville; and three-story, 62-unit Holiday Inn Express Merrillville all treat their guests to a complimentary breakfast each morning but have no full-service restaurants on the premises. The on-site Great American Grill at the four-story, 124-unit Hilton Garden Inn Merrillville serves breakfast and dinner daily.
Budget Hotels
Three hotels in Merrillville are probably good choices for budget-minded travelers. Although their rates are lower, most of these properties offer all the basic amenities today's travelers demand, including a complimentary breakfast. Recreational facilities at the three-story, 52-unit Best Western Inn & Suites of Merrillville include a heated indoor swimming pool and exercise room. The three-story, 62-unit Country Inn & Suites lies within easy walking distance of the sprawling Westfield Southlake Mall, and the three-story, 112-unit Fairfield Inn & Suites is conveniently located at the junction of U.S. 30 and Interstate 65.
Extended-Stay Hotels
A smart choice for family groups or travelers planning an extended stay, two all-suites hotels in Merrillville offer the extra elbow room to make your stay more comfortable. Accommodations at the three-story, 78-unit Residence Inn Merrillville include 78 studio, one- and two-bedroom suites, all of which have fully equipped kitchens. All 66 units at the Comfort Suites, located close to Deep River Waterpark, feature separate sitting and sleeping areas and limited kitchen facilities, including a microwave and refrigerator.
Pet-Friendly
The two-story, 121-unit La Quinta Inn not only accepts pets for no additional charge, but it also qualifies as a good choice for budget-minded travelers. The hotel's convenient location near the junction of I-65 and U.S. 30 makes it a good base for exploring all that the area has to offer.
Photo Credits
Jupiterimages/Photos.com/Getty Images