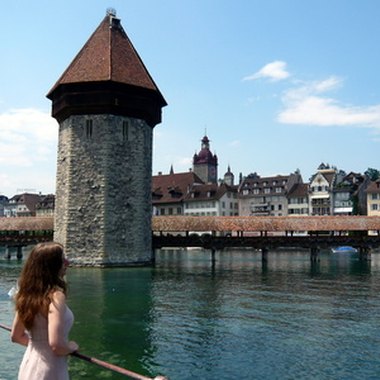 With its historic city center, alpine panorama and lakeside setting, Lucerne offers many travelers the perfect location for experiencing Switzerland's culture and beauty To get the best of a trip to Lucerne, stay at one of the city's historic hotels, which immerse guests in the city's heritage.
Hotel Schweizerhof Luzern
Sophistication and elegance are the two words that come to mind when entering the Hotel Schweizerhof Luzern, which stands at the shores of Lake Lucerne. This traditional hotel kept its authentic 19th century interior design and invites guests to step back into an old world's classiness. A marble arcade with Corinthian columns, stucco walls and chandeliers leads into the lobby area, while plush chairs surrounded by white orchids offer a comfortable place to socialize. Its 101 rooms feature a warm and welcoming atmosphere created by antique furniture, paintings, brocade curtains and exquisite carpeting. The hotel's top floor offers a wellness area where guests enjoy panoramic views on the Alps and the lake while relaxing in the Finnish sauna. A seafood restaurant and a traditional Swiss restaurant serve gourmet cuisine. In summer, guests can enjoy the lakeside terrace.
Hotel Monopol Luzern
Hotel Monopol Luzern is the closest hotel to Lucerne's main train station, situated in the heart of the historic old town. The building itself is a baroque masterpiece with an impressive facade with rococo-style pillars and capitals, gilded balcony balustrades and a copper-faced cupola. Its interior is less impressive but still has a traditional elegance. Rooms are spacious and come with a small seating area. Plants, fresh flowers and a fruit baskets add a friendly touch. Mornings start with a complimentary breakfast buffet that include Swiss specialties such as freshly baked breakfast rolls and croissants, homemade jams, Swiss cheese, cold cuts and a variety of fruit. A Japanese lounge bar welcomes guests on the top floor and serves sushi, Japanese tapas and a variety of first-class cocktails in a stylish setting with panoramic views. The ground floor hosts a restaurant serving French and Mediterranean cuisine and a bar with concert showroom.
Hotel des Balances
Hotel des Balances is located at the banks of the Reuss River, which flows from the lake and divides the city center. It is next to the romantic, 14th century Chapel Bridge, one of Lucerne's emblems, and is in a charming historic building with an impressive facade painted in the style of Renaissance artist Hans Holbein. Parquet floors, stucco walls and antique furniture decorate the lobby area which, thanks to its numerous French cascade windows, boasts a very light and airy atmosphere. The rooms feature a combination of modern elegance and historic elements and come with parquet floors, designer furniture, large antique mirrors with golden frames and modern lamps. A gourmet restaurant with a terrace reaching over the river serves fusion cuisine and a rich breakfast buffet in a Venetian setting.
Palace Luzern
Guests looking for an upscale luxury hotel will find a suitable address at the Palace Luzern. This historic palace dates to the 19th century Gruenderzeit epoch and stands right at the shores of Lake Lucerne, about .6 miles from the historic old town. Marble chessboard floors, antique pillars, chandeliers and a large staircase with historic balustrade create a fairytale-like charm in the common areas. This romantic ambiance continues into the rooms and suites, which come in warm colors and feature antique, lacquered, mahogany furniture, plush armchairs, exquisite fabrics and decorative curtains. A deluxe spa area with ayurveda and hot stone treatments, sauna, steam bath, ice fountains and a fitness center offer recreation opportunities. Two restaurants and a rich breakfast buffet treat guests to gourmet cuisine in elegant settings.
Photo Credits
Chapel Bridge (Lucerne) image by Forests&Mountains; from Fotolia.com