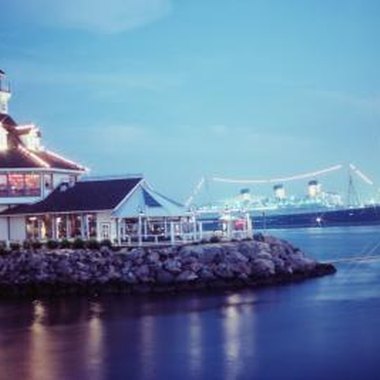 Long Beach attracts business travelers and leisure tourists alike with its bustling port, taco shops, low-key beaches, proximity to downtown Los Angeles and the sleek surf communities of Orange County, and convenient access to Catalina Island. Parts of the city remain heavily industrial, but downtown Long Beach has worked hard to establish attractive shops, chilled-out bars and casual restaurants to attract visitors. Long Beach-area hotels provide convenient access to the Aquarium of the Pacific, Queen Mary museum and the Long Beach Museum of Art.
Budget
Southern California can be quite expensive for visitors. Stay in budget accommodations to preserve funds for preferred activities–surf lessons, boutique shopping expeditions and golf rounds don't come cheap in Long Beach. The Long Beach-area Motel 6 offers basic amenities at common-sense prices. Guests get free morning coffee and local calls, and kids stay free with parents. Travelers can bring pets, but prepared to pay a small fee fore wireless Internet access. Pack sunscreen–the beach lies just 10 miles away.
Bed-and-Breakfast
Book cozy Long Beach-area accommodations at the Turret House, a bed-and-breakfast establishment built in 1905 offering just five guest rooms, lead-glass windows and turrets. Rooms come with claw-foot bathtubs, free wireless Internet access, and bathrobes. Guests enjoy breakfast buffets served in the hotel's formal dining room; the hotel also offers free sodas, beer and wine. Centrally located, the hotel lies within 25 miles of four airports, including LAX and Long Beach Airport.
Sports Friendly
Nearby Long Beach State University attracts out-of-state collegiate sports teams for ongoing competitions. The Long Beach-area Golden Sails Hotel Golf & Conference Center offers special deals for traveling teams, including discounted room rates and free access to conference rooms. Hotel staff members direct visitors to area competitive sports facilities, where guests can watch open water swimming contests, power boat racing and water polo games. Rooms overlook the hotel's marina or courtyard, and come with private balconies or patios, free wireless Internet access and satellite TV. Guests splash in the outdoor pool or firm up at the on-site fitness center.
Boat Accommodation
One of Long Beach's main attractions, the Queen Mary, offers hotel accommodations aboard the retired, 1930s-era transatlantic ocean-liner. Cabins come with original wood paneling, flat screen TVs, and iPod docks. Hotel amenities include guided ship tours, on-site spa and fitness center. Guests pay extra for wireless Internet access and in-room fridges. The Queen Mary features seven restaurants and lounges, shops, kids' arcade, shuffleboard games, and Pilates classes.
Photo Credits
Jupiterimages/Photos.com/Getty Images