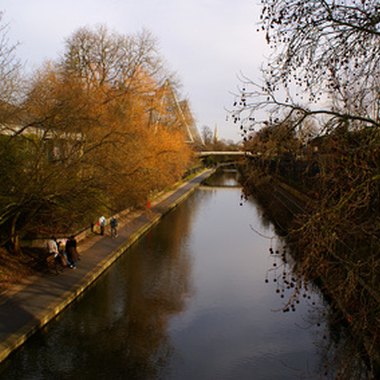 London hotels near Regent's Park vary from historic and luxury, such as the Landmark and Dorset Square, to business and eco-friendly, like the Holiday Inn and the Danubius. Travelers discover a hotel near the park to suit their individual needs. A visit to the renowned Regent's Park is a delightful haven to travelers to the north of central London. Close by, visitors enjoy a cricket match at Lord's cricket ground, explore Camden Town markets or savor creamy croquetas at Caleya Iberica Restaurant on Great Portland Street.
Eco-Friendly Hotels
The stylish Danubius Hotel overlooks Regent's Park and Lord's cricket ground. This luxury hotel, suitable for business and leisure guests, features 365 spacious rooms and suites with a modern decor. The Danubius has been honored with the Green Tourism for London award for its ongoing environmentally friendly efforts. The hotel recycles its glass, cardboard and paper, and implemented energy-efficient alternatives such as replacing 70 percent of its lighting and 65 percent of its water usage with energy-efficient methods. Additionally, the hotel employs an energy-efficient combined heat and power generator with a 10-year proposal to further reduce their impact on the planet and in the community.
Historic Hotels
London's Landmark Hotel instills Victorian-Gothic grandeur of 1899 with the modern conveniences of the 21st century. As one of the last of the Victorian railway hotels, the Landmark features 299 luxury guestrooms and suites. On Conde Nast Traveller's Gold List, the Landmark Hotel features an eight-story glass-roofed atrium that imparts luminosity on an otherwise dreary London day. Stained glass windows, wall murals and dazzling chandeliers add to its resplendence. Guests staying in one of the internal-facing guestrooms gain a stunning view of the atrium.The Landmark's "lifestyle suites" provide complimentary yet indulgent-tailored options specific to a guest's individual requirements. All guests have the option of the health club and spa on site with a small swimming pool. The hotel offers rooms for guests with disabilities as well as a designated smoking floor.
Business Hotels
The Holiday Inn Regents Park Hotel is situated close to London's center and a short walk away from Soho and the clothing shops of Oxford Street. Business travelers take advantage of the hotel's Academy Conference Centre, which offers 11 business-suite options accommodating up to 350 persons. Audio-visual equipment, high-speed Internet access, fax and printer are available on site. Guests rent computers and request secretarial services. Business guests find Regent's Park Tennis Centre and West End entertainment and restaurants nearby. The hotel is conveniently located near the Warren Street and Great Portland Street underground stations and rail network for an effortless commute.
Luxury Hotels
The stylish Dorset Square Hotel is steps away from Regent's Park and caters to the sophisticated traveler, according to Luxury Traveler. The restored Regency townhouse overlooks what was once the original site of Thomas Lord's cricket ground. Its five floors boast 37 rooms with a tastefully classic English style with a mix of antiques and period décor. Eight of the rooms feature crown-canopied beds while Regency room No. 102 features high ceilings and scenic views of its historic tree-filled gardens. This Conde Nast Gold List hotel offers fine dining in-house at its rustic Osteria dell'Orologio restaurant. Featuring a set menu, Osteria dell'Orologio delivers authentic Italian dishes with a comprehensive wine list. Savor robust dishes like swordfish carpaccio and ravioli stuffed with prawns and Italian artichoke. Serving breakfast, lunch and dinner, reservations are recommended.
References
"Frommer's London 2010"; Darwin Porter, Danforth Prince; 2009
Peter Moyes; Finance and Operations Manager Danubius Hotel; London
Photo Credits
Regent's Canal, London, UK image by Elzbieta Sekowska from Fotolia.com