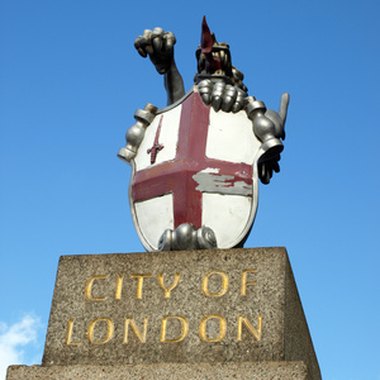 The Barbican, a historically derelict area even before the damage and destruction of the Blitz in World War II, was developed in the 1970s into a new residential and arts complex for the City of London. An example of the Brutalist school of architecture, it is Europe's largest combined arts and conference venue, home to the London Symphony Orchestra as well as a cinema, theater, art gallery, restaurants and and concert hall. It is also a residential community with nearly 200 houses and apartments. Although there are quite a few apartment hotels in the vicinity, only a handful of conventional hotels are near the Barbican.
Fox & Anchor
The Fox & Anchor is an unusual inn. Downstairs it is a gastropub decorated in a traditional and historic City of London style. Upstairs, the inn houses a suite and five luxury rooms, equipped and decorated like a boutique hotel. Among the more unusual comforts available, all rooms are fitted with Bose sound system and supplied with luxury Miller Harris toiletries. Four of the six rooms have rolltop bathtubs. The double-ended, rolltop tub in the suite is made of copper. Located in the Clerkenwell area of London, the inn is about three-fourths of a mile from entrances to the Barbican.
Malmaison London
The Malmaison London in Charterhouse Square, close to the Barbican Underground stop, is part of the British-owned Malmaison group. The group specializes in creating luxury city center hotels in architecturally interesting and often listed buildings. This hotel occupies a red-brick Victorian edifice that was once nurses' housing for nearby hospitals. Inside, the 97 contemporary rooms are decorated in lilac, dove and earth tones with luxury textiles and bathrooms. A Malmaison trademark is the provision of large containers of their own brand of toiletries that guests are encouraged to take home.
Apex London Wall
Apex London Wall Hotel is part of the Apex group, the AA's Small Hotel Group of the Year 2010 and 2011. It's a modern, four-star hotel in the heart of London's financial center and moderately priced for its location, about half a mile from the Barbican. The hotel has 89 rooms and suites, some with glassed-in balconies overlooking this futuristic area of the City of London. Rooms feature extra large, 40-inch flat-screen televisions. The colorful decor, which features purple and gold, red and gold and green and gold in some rooms, may not be to everyone's taste.
Thistle City Barbican
The Thistle City Barbican is a large, 463-room hotel within easy walking distance of the Barbican. Accommodations are contemporary though slightly dated-looking. Public areas are what you would expect of a budget-priced hotel -- clean and functional though overlit and somewhat sterile. The hotel's size makes it convenient for conferences and meetings with large numbers of delegates. This hotel's published room rate may seem expensive for its relatively standardized offering, but cheaper online deals and special packages are available.