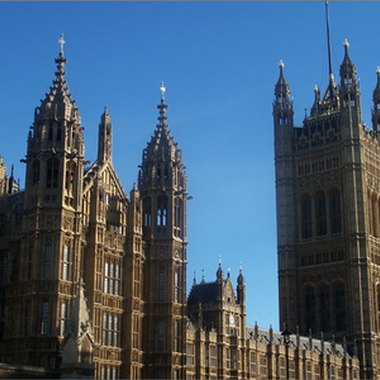 Most of what people think of as the center of London is located in Westminster, one of the many boroughs that make up the city. Hundreds of hotels, ranging from internationally famous and iconic places to local inns that are nearly flophouses, are clustered within Westminster. It can be confusing for visitors. Choosing a class of accommodations that's right for your budget and requirements is a first step.
Iconic Hotels
When it comes to famous hotels with names that conjure up international glamor, Westminster has them by the dozen. They tend to be luxurious and expensive with attentive staff who cater to guests' every whim. Possibly the most iconic of all is the Savoy, managed by the Fairmont group. It reopened in October 2010, following a four-year restoration of its Edwardian and Art Deco rooms at a cost of more than $160 million. At the American Bar at the Savoy, drinkers down cocktails in a 1920s atmosphere to the accompaniment of a jazz pianist.
Chic Boutiques
Chic little hotels in central London run the gamut of designer tastes. Visitors can find boutique hotels decked out like fantasy film sets, as English country manors or spartan spaces of the future. Prices vary from moderate to almost as much as the grandest hotels, depending upon the amount of space and service available. One Aldwych balances modern sensibility with comforting, soft upholstered furnishings. Rooms are decorated with clean, modern shapes and limited palettes without seeming cold and minimalist.
Station Hotels
Rail travel remains an important means of getting around the United Kingdom. London's rail stations are hubs connecting the capital with every region of the country as well as Europe, through the Channel Tunnel. Hotels for weary arriving visitors or for travelers catching an early train cluster around all the main stations. These tend to be moderately priced; perhaps because British railways carry so much high-level business traffic, clean, good quality station hotels are easy to find in London. The budget-priced Premier Inn group has several properties near London train stations. The Premier Inn Victoria, a few minutes walk from Victoria Station, offers well-maintained, standard rooms in keeping with the chain's pared-down, contemporary style.
Historic Hotels
Among London's many historic hotels, the Langham in Portland Square lays claim to being Europe's first "grand" hotel. When it opened in 1865, the Prince of Wales attended as did members of London's Victorian high society. Over the year's the Langham has had many lives and many owners -- including the BBC, which wanted to demolish it. However, in 2009 it reopened, following a five-year, $130 million restoration, as a 5-star luxury hotel once again. One of this hotel's other claims to fame is that afternoon tea was first served to the public in its Palm Court, 140 years ago. In 2010, the Tea Guild named the hotel's afternoon tea the best in London.
Resources
The Savoy; Strand; London WC2R 0EU; 011-44-20-7986-4343
Premier Inn Victoria; 82-83 Eccleston Square; London; SW1V 1PS; 011-44-871-527-8680
The Langham; 1c Portland Place; Regent Street; London W1B 1JA T; 011-44-20-7636-1000