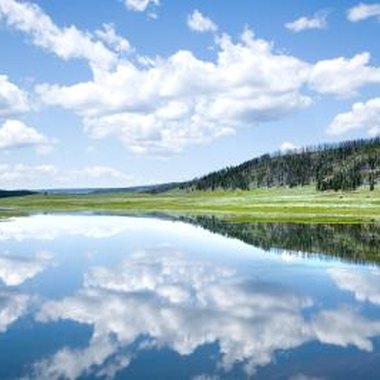 With a little advance planning, visitors to Yellowstone National Park have no need to choose between camping inside the park and seeking lodgings outside the park. Yellowstone itself provides choices of hotels, lodges and rental cabins in locations all around the park, all operated by Xanterra Parks and Resorts, the park's lodging contractor.
Locations
Yellowstone National Park has lodgings in six different areas, offering broad coverage of its more than 3,400 square miles. Canyon Village rests in the Grand Canyon of Yellowstone in the vicinity of the two Yellowstone Falls. Grant Village is in the central region of the park, off the shores of the western end of Lake Yellowstone. Lake Village sits on the northern shores of the same lake. Situated in the northwest of the park is Mammoth Hot Springs Hotel and Cabins, while the Old Faithful Inn and its two neighboring lodges lie adjacent to the famous geyser. Roosevelt Lodge is in the north-central part of the park.
Time Frame
Most of Yellowstone's lodgings operate during the park's summer season, opening in May or June and closing in September or October. Only two hotels remain open during the winter season, Mammoth Hot Springs Hotel and Old Faithful Snow Lodge. The winter season typically runs from late December through early March. However, no lodgings in the park remain in operation throughout the year. Both Mammoth Hot Springs Hotel and Old Faithful Snow Lodge close for several weeks in the mid-to-late autumn and the early-to-mid spring.
Rental Cabins
Of the six separate lodging areas in Yellowstone National Park, only Grant Village lacks rental cabins. Standards for the cabins in the remaining five developments vary greatly, but often tend toward the rustic side. The budget cabins at Old Faithful Lodge (distinct from Old Faithful Snow Lodge) are essentially shotgun shack-style motel rooms using shared bathrooms and set in a lightly wooded area, and therefore just one step up from camping. Even the higher-end cabins, such as those at the Lake Lodge or Mammoth Hot Springs Hotel, are usually simple affairs with motel-style furnishings and sometimes come with just a bathtub or a shower stall rather than the more normal shower/tub combination.
Guestrooms
Among the hotels and lodges at Yellowstone National Park, the Old Faithful Inn truly stands out. A Fodor's Choice hotel with an "Exceptional" rating from Frommer's, the hotel is a National Historic Landmark and therefore a tourist attraction in its own right. The inn is something of a giant log cabin, centered on a cavernous atrium sporting a seven-story fireplace. However, rooms in the inn's old building are rustic affairs with shared bathrooms. Visitors in search of hotel room luxurious should stay in one of the other lodging areas, whether it be the modern and contemporary Grant Village or the Lake Yellowstone Hotel with its authentic 1920s style.
Photo Credits
Jupiterimages/Photos.com/Getty Images