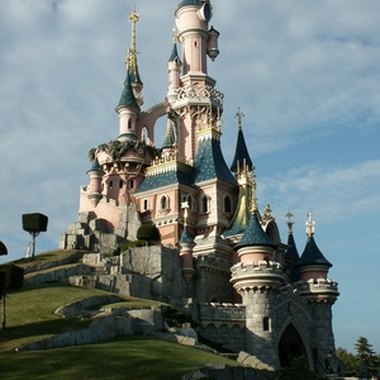 It's not for nothing that Disneyland is known as the Happiest Place on Earth – fireworks displays, costumed cast members, fairytale-themed rides and the opportunity for world-class people-watching can make for a special day. Disneyland's home, Anaheim, California, is a family-friendly, bustling city of about 338,000 people. It can be bewildering, however, to out-of-town visitors seeking hotels or lodging near Disneyland because of complex freeway networks and neighborhoods that suddenly shift from safe to not-so-safe. For a one-of-a-kind experience and to avoid notorious Southern California traffic, stay at one of the hotels along the theme park's monorail system.
Disneyland's Hotels
If you just can't get enough Disney, opt for Disneyland hotels incorporating all the glitz (and perhaps, schmaltz) of the magical empire. The Disneyland Hotel, composed of three towers called Magic, Dreams and Wonder, features regular appearances by Disney characters that can be memorable for kids – particularly the wake-up call delivered by Mickey Mouse himself. On some days, Disneyland Hotel guests are permitted to enter the theme park before normal business hours. Disney's Grand Californian Hotel & Spa, while still family-friendly, is designed less for the magical stardust crowd and more for adults who appreciate the venue's vaulted ceilings, dark wood paneling and other rustic touches meant to evoke Yosemite National Park.
Mediterranean Oasis
Anaheim's Desert Palms Hotel has a subtle Mediterranean feel thanks to palm tree landscaping, swimming pools and warm color schemes – a respite from Disneyland's cheery bustle, according to Lonely Planet. While there are some kid-friendly, touches including children's menus, video arcade and a Quizno's submarine sandwich shop, business travelers will appreciate round-the-clock access to the hotel's free business center. Take advantage of the hotel's special relationship with Disneyland by purchasing discounted theme park tickets directly from the hotel website when booking a room. Disneyland is less than a mile away from the hotel.
Just for Fun
Disneyland doesn't permit overnight campers on the park's iconic Matterhorn mountain, but for those who'd like to imagine that they're vacationing in a snowy wonderland, rather than the freeway-infested valleys of Southern California, the Alpine Inn might be an interesting choice. Improbably and irreverently festooned with pretend icicles and faux snow, the Alpine Inn is within walking distance to both the theme park and Disney's California Adventure – although guests can also hop aboard motel shuttles to the parks. Rooms are small, but the budget-friendly motel does offer free parking, Internet access and breakfast.
Rooming with Kids
After a long day clutching balloons, being photographed with princesses and screaming on rickety railroad rides, your kids can crash out in bunk beds at the Courtyard Anaheim Marriott. The hotel's Kid Suites also feature checkers games at activity tables and television featuring the Disney Channel, so your children will have something relaxing to do as their adrenaline-and-sugar highs wear off. Adults will appreciate free wireless Internet access, an outdoor heated pool and hot tub and business center. Inexpensive shuttle rides to Disneyland can be arranged.