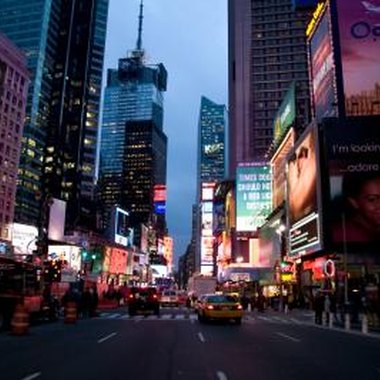 Times Square is the location of a quarter of all of the hotel rooms in Manhattan, totaling 16,000 rooms spread across 40 hotels, as stated by the Times Square Alliance. If your travels bring you to the Big Apple, consider staying in this iconic district, where the glow of Broadway mingles with neon marquees and businesses, shops and museums. Hotel options here include luxury four-diamond establishments, boutique hotels, chain hotels to fit most budgets and pet-friendly choices.
Chain Hotels
The Hilton Times Square offers guest rooms starting at the 23rd floor, so guests receive panoramic views of Times Square and the rest of Manhattan. The AAA three-diamond hotel welcomes pets and gives each guest a fully stocked mini-bar in their room. The 330-to-360-square-foot guest rooms are the largest in the Midtown district. It has a fitness room and casual restaurant that serves dishes using fresh, seasonal ingredients. The Doubletree Guest Suites Times Square, which also allows pets, is the only all-suite hotel on Broadway in Times Square. The AAA three-diamond hotel has two-room suites with separate living rooms and bedrooms. All suites have refrigerators and microwaves, and the hotel offers a fitness center on site. Times Square also has an Econo Lodge for the budget-conscious traveler. This hotel offers traditional guest rooms and serves a complimentary continental breakfast daily. Guest rooms in this hotel are quite small, without even enough space for a dresser, but the hotel offered rooms for less than $150 a night in 2010.
Top-Rated Hotels
The Renaissance New York Hotel Times Square, a AAA four-diamond hotel, offers fully soundproofed rooms, so you will not hear the sounds of the city while you rest in your room. It provides guests with a small fitness center complete with cardio equipment and free weights. While staying at The Renaissance, consider having a drink or meal at the R Lounge at Two Times Square, which boasts floor-to-ceiling windows overlooking the square and serves American cuisine for lunch and dinner. The Royalton Hotel features a lobby with sophisticated touches like Roman-style pillars, a floor-to-ceiling fireplace and hand-upholstered leather walls. Rooms range in size from the cozy 250-square-foot standard room to the 1,700-square-foot penthouse, and every guest receives an iPad in their room to use during their stay. In-room spa services allow for relaxation, while the fourth-floor fitness center gives guests cardio equipment for their workout.
Boutique Hotels
Your accommodations in Times Square can be as individualized as the various cultures that intersect along its streets. The AAA four-diamond Muse Hotel on 45th Street boasts rooms that are slightly more spacious than other boutique options in Times Square, ranging in size from 235-to-400 square feet. Rooms are decorated in soothing colors of gray, blue, black and white, and you can request a balcony room with a city view. In-room spa services, including in-room exercise programs, replace a fitness center for a more personalized touch. Choose from goose down feather beds and pillows or plush pillow-top mattresses during your stay. The Muse Hotel's rooms have animal print robes for all guests, including children. The Casablanca Hotel features designs inspired by its movie namesake, with decor reminiscent of luxury hotels in Morocco. Guests at the hotel find complimentary refreshments all day and night at Rick's Cafe, including a European-style breakfast and an early-evening wine-and-cheese reception. Outside of these times the cafe serves cookies, fruit, coffee and tea. The hotel has no fitness center, but guests receive daily passes to the New York Sports Club during their stay.
Historic Lodging
Times Square has one notable historic hotel. The Algonquin Hotel opened in 1902, and since its earliest days has been known to host famous people from the fields of literature and theater. Historic Traveler named the hotel as one of America's "10 Great Historic Hotels" because of its sophisticated atmosphere and long-standing tradition in the city. In addition to famous artists, the hotel also appeals to business travelers because of its location in Midtown, complimentary Wi-Fi and in-room business centers. The hotel makes notes of the individual preferences of its guests and can match those when the guest returns to the hotel.
Pet Friendly Hotels
Bringing your pet to New York does not limit you to budget hotel options. In Times Square, the AAA four-diamond Sofitel New York welcomes pets to its elegant hotel. Guest rooms feature marble bathrooms and fully stocked mini-bars, with 24 hour a day room service. The W New York Times Square also welcomes pets weighing up to 40 pounds. The chic guestrooms come in six distinct styles. Each has its own distinguishing features, like floor-to-ceiling mirrored headboards in the Wonderful Room, expansive city views in the Cool Corner Room and the pillow-topped feather bed in the Fantastic Suite.
Photo Credits
Jupiterimages/Photos.com/Getty Images