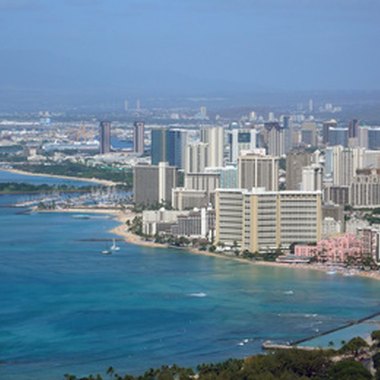 Lewers Street in Honolulu is a prime location near the beach and once was a quaint, albeit slightly rundown tourist street replete with economy hotels and T-shirt shops. In 2004, Outrigger Enterprises made over the area, calling it Waikiki Beach Walk and replacing the old establishments with a posh collection of shops, galleries, restaurants and cafes. A few Lewers Street hotels remain, although the days of $59 rooms are more than likely gone forever.
The Imperial Hawaii Vacation Club
This timeshare resort property consists of about 375 apartments at the now-tony address of 205 Lewers Street. Enjoy the convenience and added economy of cooking in, or experience the cafes and nightlife just steps from your front door. All guest units feature fridges, convection ovens, toasters and microwaves. A 37-inch LCD TV and air conditioning add to the comforts at the Imperial.
The Aston Waikiki Joy Hotel
At the Aston Waikiki Joy Hotel, guests will find a relaxing, open-air lobby and good location near the bustle of Waikiki Beach Walk shopping district, with its new stores, galleries and restaurants. About seven minutes' walk to the beach, the Waikiki Joy offers private lanais (balconies) and marble entrances. Whirlpool tubs, complimentary breakfast, free Internet and a surround-sound stereo system add to the amenities. Although you are not far from the beach, you also can relax more peacefully and privately at the hotel's pool deck and lounge.
Best Western Coconut Waikiki Hotel
A Waikiki boutique hotel, the Coconut showcases hip lobby decor modeled in the "Hawaii deco" style: greens, blues and bright colors that pop. With only 80 rooms, the hotel retains the intimacy and friendliness of old Hawaii. Lounge by the small private pool framed in exotic tropical gardens. Every room comes complete with lanai, providing views of Diamond Head to the east or the city to the west. In keeping with the boutique hotel experience, guests can partake of a lomi lomi (Hawaiian) massage, wraps and hydrotherapy at the spa.
Hokele Suites Waikiki
Hokele Suites Waikiki, at 412 Lewers, offers an outstanding location in the heart of Waikiki Beach Walk. Steps from nightlife, dining and shopping, you're equally as close to one of the world's most famous and beautiful city beaches at Waikiki. At this all-suite hotel, choose from one- or two-bedroom suites equipped with lanai, air conditioning and a kitchen (rare in this part of the city). Enjoy the beach every day and the hotel pool, located in a quaint courtyard.
Photo Credits
View of Honolulu image by Katja Sucker from Fotolia.com