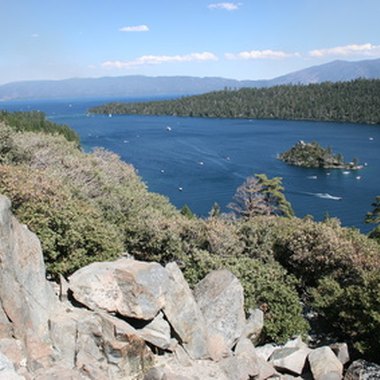 Lake Tahoe is the world's 10th-deepest lake, and the second-deepest lake in the United States. Its vivid blue waters, sandy beaches and world-class ski slopes attract visitors year-round for outdoor activities, including skiing, kayaking, sailing and hiking. The lake's ongoing theater, music and cultural festivals provide entertainment, and there's plenty to do at the glittering casinos along Nevada's shoreline. In general, the north shore of the 22-mile long lake is considered to be quieter and upscale, while the south shore is a bit busier.
Rat Pack Glam
Lake Tahoe famously attracted Rat Pack party people including Frank Sinatra, who opened the Cal-Neva resort straddling the California-Nevada stateline and hosted glamorous guests, such as Marilyn Monroe. Antler chandeliers, swanky seating and cushy carpeting serve as pleasant distractions from the Crystal Bay's fresh air, pine trees and chilly lake water, according to Lonely Planet.com. Today's guests can take weekend tours of the hotel's underground tunnels, which served as handy hiding places for misbehaving celebs during police raids. Upscale suites include lake views and canopy beds.
Historic Marina
Camp Richardson Resort & Marina on Tahoe's South Shore has a history reaching back to 1875, when pioneer M.C. Gardner established a sawmill and railroad line for logging. In the early 1900s, the land was converted to a summer resort, including holiday housing, a saloon and dance pavilion. Today, involvement from the U.S. Forest Service helps keep nearby beaches and forests protected from over-commercialization. Camp Richardson Hotel rooms feature modest log furniture and there's a central fireplace for socializing. Rent paddleboats and kayaks from the marina, and ogle lake views at the on-site Beacon Bar & Grill while enjoying a spicy Bloody Mary and homemade clam chowder bread bowl.
Ski Tahoe
One of North Lake Tahoe's newest resorts in 2010, the Ritz-Carlton, Lake Tahoe is located on the slopes of Northstar-At-Tahoe ski resort. Rooms feature fireplaces, marble bathrooms and flat-screen TVs. Guests can ride the year-round gondola directly to Northstar Village for shopping and ice skating, but the main wintertime attraction is skiing. Ski valets help guests access ski equipment, fit poles and boots, and hop on ski lifts, and there are special areas for beginner ski lessons. After skiing, relax in a pinyon pine steam room or take a dip in the heated pool overlooking the slopes.
Tahoe Gaming
Harrah's Lake Tahoe is part of South Lake Tahoe's busy casino strip, complementing the lake's wholesome outdoor activities with plenty of gambling entertainment, including slot machines, table games, poker and Keno. The on-site Vex Nightclub features dancers performing aerial tricks, while lounge and cigar bar Cliché offers a martini menu and vintage ports and cognac. Suites feature his-and-hers bathrooms, wireless Internet and Nintendos.