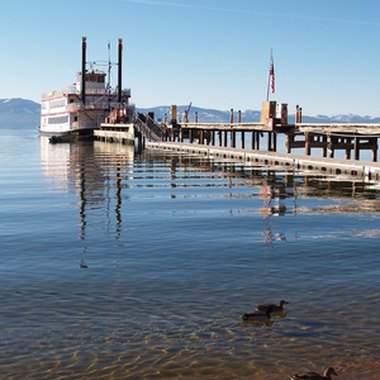 Dogs are a big part of the outdoor recreation culture at Lake Tahoe, which lies in a mountain-ringed Alpine basin on the border between northern California and Nevada. Skiers, mountain bikers, hikers and other visiting adventurers often consider their canine companions an essential part of the fun, and dog-friendly lodging is plentiful. Hotels on the lake that accept dogs generally charge a fee and expect pets to be well trained and well behaved. Be advised that some may impose size limitations.
Cal Neva Resort
Located in Crystal Bay on Lake Tahoe's north shore, the Cal Neva Resort -- not to be confused with nearby Reno's Club Cal-Neva -- offers cabins and hotel tower rooms with 180-degree lake views. It was a favorite hangout for the Brat Pack when Frank Sinatra owned the resort from 1960-1963, and the hotel offers tours of an underground tunnel network used by stars to come and go. The Nevada/California border runs directly through the property; guests can swim back and forth between states in the hotel pool. The owners of the Cal Neva temporarily closed the gaming floor in 2010, but all other facilities remained open. As of fall 2010, the Cal Neva would happily accept Fido for a $50 non-refundable pet service fee. The hotel also requires a $100 refundable deposit to cover possible damage. Guests with pets may book hotel rooms on the first floor.
Zephyr Cove Resort
The dog-friendly Zephyr Cove Resort offers a complex of cabins, an RV park, a four-guestroom mountain style lodge and two restaurants on the southeast shore of Lake Tahoe. It lies peacefully away from the glitzy Stateline, Nevada casino district, yet is convenient to gambling and nightlife for those who want to play. The resort boasts a mile-long private beach and a dock from which Lake Tahoe's two famous paddlewheelers, the Tahoe Queen and the M.S. Dixie, depart for tours of the lake. Other water recreation activities include wakeboarding, parasailing and jet skiing. Your dog may accompany you in the cabins for a fee of $15 per night, as of fall 2010. Pets stay free in the RV park/campground.
Best Western Timber Cove Lodge Marina Resort
Rated three diamonds by AAA, the Timber Cove Lodge boasts its own beach just minutes from the casinos of Stateline, and is convenient to such outdoor attractions as Mt. Tallac, Emerald Bay, Heavenly Valley ski area and Lake Tahoe's highest summit, 10,881-foot Freel Peak. The resort offers 262 rooms, many with beach, lake or pool views. Most also have patios, balconies and/or fireplaces. Speedboat and jet ski rentals, sailboat tours, water toys and wedding planning services are among the other amenities available. Timber Cove Lodge welcomes your pooch, to boot; as of fall 2010, the property accepted dogs in return for a $25 per night pet fee.
Three Peaks Resort and Beach Club
The recently renovated Three Peaks Resort features accommodations ranging from standard hotel rooms to suites and two-bedroom "town homes." The "three peaks" is a reference to the trio of summits that loom over South Lake Tahoe: Freel Peak, Job's Peak and Job's Sister; it's possible to hike to the summits of all three in a single day, should you and your dog be so inclined. Furnishings at Three Peaks Resort are done in popular lodgepole style, with refinements such as recessed lighting and vaulted ceilings. The resort's private beach is a five-minute walk away. As of fall 2010, the resort welcomed dogs weighing 35 pounds or less for a fee of $20 per night.