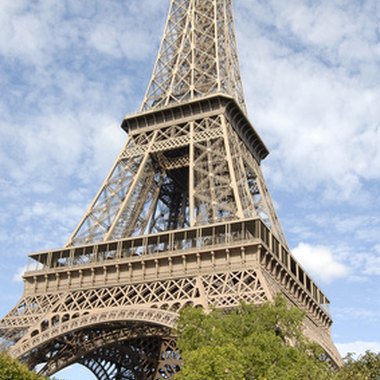 From the arty, bohemianism of the Latin Quarter and the Sorbonne to the iconic Paris of the Eiffel Tower and Napoleon's tomb, Les Invalides, the Rive Gauche, or Left Bank of Paris, has a surprising amount of variety. The hotels in this area, south of the Seine, are equally varied.
Hotel Lutetia
The100-year-old Hotel Lutetia in St. Germain des Pres, is one of the few grand hotels on the Left Bank. It has 230 rooms, including 60 suites, all with contemporary furnishings influenced by the hotel's 1930s Art Deco theme. The romantic duplex Eiffel Suite, in the eaves of the hotel facade, has two balconies with spectacular views of the Eiffel Tower and the golden dome of Les Invalides. The bathroom, inspired by the architecture of Gustav Eiffel, has a large, circular bath and white and gold mosaic-tiled walls.
Hotel Saint Jacques
The 38 rooms of this hotel, in the heart of the Latin Quarter, are decorated in a Belle Epoque style, with murals, elegant furnishings and canopied beds. Toile de jouy is much in evidence and at least one room has an elaborately painted ceiling. Hotel Saint Jacques was used as a location for the Cary Grant and Audrey Hepburn film, "Charade." It's well located for sightseeing, about halfway between the Pantheon and the Seine and a ten minute walk from Notre Dame.
Hotel Jardin de Cluny
The Hotel Jardin de Cluny is just a few hundred yards from France's National Museum of the Middle Ages in the late 15th-century Hotel de Cluny, home of the famous Unicorn Tapestries. Rooms in the hotel are tiny, even by Parisian standards, but they are well kept with modern furnishings and recently refurbished bathrooms. The continental breakfast, served in the hotel's vaulted cellars, is an expensive extra but a good selection of cafes and bakeries nearby serve coffee, croissants and pastries.
Hotel de la Tour Maubourg
A restored 18th century Paris mansion, Hotel de la Tour Maubourg is directly across the street from the Metro station of the same name as well as Les Invalides. The dome of Napoleon's final resting place is visible from some of the 17 rooms. These are nicely furnished but vary in size from spacious to tiny. Bathrooms are modern and stylish. The hotel's semi-public areas, including a garden and a resident's lounge, are comfortably furnished. A computer for guests' use is in the lounge and a scented hammam is available for guests at any time of day or night.
Resources
Hotel de La Tour Maubourg; 150 Rue de Grenelle; 75007 Paris; 011-33-1-47-05-16-16
Photo Credits
tour Eiffel - Eiffel tower image by AlcelVision from Fotolia.com