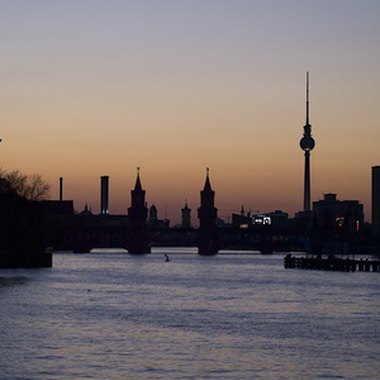 Many of Kreuzberg's hotels resemble the cutting edge and avant-garde style of Berlin's hip and trendy neighborhood. Large chains are rare in Kreuzberg. Visitors find a variety of individually owned hotels that emphasize the German capital's vibrant and cosmopolitan atmosphere and allow guests to experience the culture and lifestyle of this artsy and diverse district at its best.
Hotel Die Fabrik
Hotel Die Fabrik resides in a brick stone factory building right at the Spree River. The hotel welcomes guests to a voguish interior with large ceilings, panorama windows, artsy wall decorations and retro furniture. All rooms are individually designed and feature a warm and welcoming atmosphere. To emphasize its distinctive ambiance, the hotel does not provide TVs or telephones in the rooms. Guests share bathrooms in each hallway. The on-site cafe serves a large variety of breakfasts, lunch and dinner.
Hotel Matzbach
Hotel Matzbach is in a historic brick stone market place building right next to Bergmannstrasse, one of Kreuzberg's liveliest streets with numerous cafes, bars and boutique shops. Its six rooms feature an avant-garde decor of designer furniture, large art prints and mosaic bathrooms. All rooms include TV and private safe. Some feature a private balcony with views over the adjacent square. The on-site restaurant serves breakfast and French and German cuisine in a rustic setting with a square side sun terrace.
Hotel Am Anhalter Bahnhof
Situated at the edge of Kreuzberg and within walking distance to Berlin's city center, the Hotel Am Anhalter Bahnhof provides guests with a convenient location for exploring the city. Guests sleep in spacious bedrooms that come in a modern contemporary design and include TV and a complimentary breakfast buffet. Not all rooms feature a private bathroom. The hotel does not feature its own restaurant but guests can enjoy a large variety of restaurants, cafe and bars close to the hotel.
Hotel Transit
Hotel Transit is built within a traditional Berliner building with courtyard access. The spacious rooms and dorms come in a modern design with private bathroom and include a breakfast buffet. The hotel features a 24-hour bar. As the hotel is located in one of Kreuzberg's most beautiful and vivid parts, guests enjoy easy access to a large variety of bars, cafes and restaurant.
References