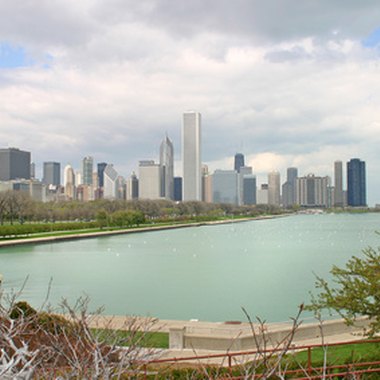 O'Hare International Airport serves more than 64 million passengers each year, making it the fourth-busiest airport in the world and the second-busiest in the U.S. after Atlanta. That means, on average, more than 175,000 people passed through the airport each day, adding to Chicago's traffic. One way to beat this, and ensure timely arrival for your flight, is by staying at a hotel near O'Hare. These hotels offer traveler-friendly amenities in Chicago's suburbs, just minutes from the airport.
Hilton Chicago O'Hare Airport
The Hilton is on the airport property adjacent to Terminal 2. Guests can walk to all three domestic terminals and reach the international terminal by way of the free airport train. The lobby has a self check-in kiosk, helping guests shorten their time in line at the airport. All 860 guest rooms feature soundproofing to ensure silent nights in the heart of one of the world's busiest airports. Wireless Internet access is available. Theater rooms come with surround-sound systems and high-definition televisions with connectivity panels for MP3 players and laptops. For recreation, guests can use the indoor swimming pool and fitness center.
Holiday Inn & Suites Chicago O'Hare Rosemont
The Holiday Inn offers 300 guest rooms just a mile from O'Hare. All rooms feature double-glazed windows for quieter nights, flat-screen TVs and wireless Internet access. Both the health and fitness center and the business center stay open 24 hours. The hotel has a Harry Caray's restaurant, a Chicago steakhouse that serves steaks, seafood, pasta and wines from around the world. Guests can print their boarding passes at the on-site ticket kiosk before getting a free ride on the hotel's airport shuttle.
InterContinental Chicago O'Hare
The InterContinental adds a little art and culture, making this an atypical airport hotel. The ground floor houses an art gallery with rotating exhibitions that feature contemporary works of art made out of traditional and nontraditional media. Free guided gallery tours are available. The 556 luxury guest rooms use this same artistic approach; stylish modern furnishings give the rooms a boutique hotel feel. Marble bathrooms, high-speed Internet access and twice-daily maid service come standard. The hotel's live entertainment theater hosts musical acts and stand-up comedians throughout the week. The 24-hour complimentary airport shuttle service takes guests the 3 miles to the terminals.
Embassy Suites Chicago -- O'Hare/Rosemont
Guests of the Embassy Suites stay 3 miles from O'Hare's terminals and within walking distance to the Rosemont Blue Line subway station, which offers direct access to downtown Chicago. The hotel's atrium welcomes guests with live plants, trees and a waterfall. Here guests can enjoy a complimentary cooked-to-order breakfast each morning. The separate restaurant and bar serves Mediterranean-style cuisine and drinks in a casual setting. The hotel allows pets, but guests must pay a non-refundable fee and a partially refundable deposit. Guests can reach the airport via the complimentary shuttle that runs every 30 minutes.