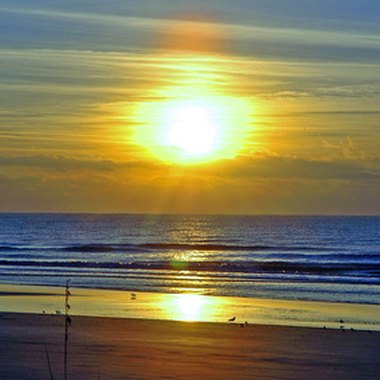 Named the No. 2 travel destination in America by "Conde Nast Traveler" in 2009, Charleston, South Carolina, stands at the forefront of tourism in the American South. Charleston combines a legacy as a historic port with sandy beaches and offers a diverse selection of hotels and inns well-placed to take advantage of both.
1837 Bed and Breakfast
Named for the year that a local cotton planter built it, the 1837 Bed and Breakfast offers its guests a reasonably priced, historic option in the old part of Charleston. This nine-room bed and breakfast exudes antebellum charm and is appropriately furnished with four-poster beds and other pieces of antique and reproduction furniture. Breakfast always includes fresh, homemade bread, and pluses include private entrances for all rooms and free off-street parking.
Charleston Place
The Charleston Place hotel enjoys a four-star rating from Forbes Travel, an "exceptional" rating from Frommer's and standing as a "New York Times Travel Pick," making it the city's premier hostelry. Charleston Place is a big, expensive, 440-room hotel situated on Market Street in the middle of the historic district's best shopping strip. The hotel offers spacious, stately yet modern guest rooms that draw foreign leaders, corporate CEOs and movie stars.
Market Pavilion Hotel
The Market Pavilion earned a Fodor's Choice award, as well as a three-star rating from Forbes Travel, which also considers the hotel ideal for romantic getaways. Although the hotel dates only to 2003, its dark wood paneling, high ceilings with chandeliers and antique furniture give it a thoroughly antebellum atmosphere that matches its East Bay Street location. The rooms are opulently furnished, and one of Charleston's best fine dining establishments, Grill 225, is in an adjoining early 20th century bank building.
Wild Dunes Resort
Wild Dunes Resort is on the Isle of Palms, a beach area about 15 miles northeast of Charleston. The resort's 600 guest rooms, suites and villas are spread out over a sprawling 1,600-acre property that includes two 18-hole golf courses, direct beach access and a yachting marina. The varied accommodations at the resort can sleep anywhere from one to 11, and offer a luxurious, contemporary decor.
Photo Credits
sunset at isle of palms,sc image by Herbert Frank from Fotolia.com