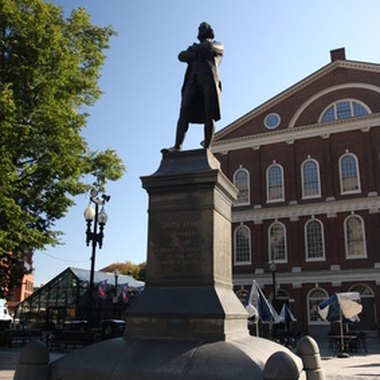 Each year, over 19 million people visit Boston. Some wander through the Freedom Trail and learn about the history of the American Revolution. Others visit students at area colleges or attend conventions at the Hynes Convention Center or meetings in the financial district and World Trade Center. Fortunately, the city has an adequate number of hotels, inns, and bed and breakfasts to accommodate its visitors. Some are generic, while others are quintessentially Bostonian. (statistics ref: http://www.bostonusa.com/partner/press/pr/statistics)
Financial District Lodging
The Langham, a AAA Four-Diamond financial district hotel, is housed in Boston's former Federal Reserve Bank. This neighborhood shuts down at the end of the workday, making it an acceptable choice for anyone who needs a good night's sleep. Despite its historic edifice, rooms at the Langham blend modern and antique decor, in a combination that somehow works. Its spacious suites provide a venue suitable for lodging and conducting business meetings.
At the World Trade Center
The Boston World Trade Center is close to downtown Boston but not as convenient as it should be. Getting there usually requires changing trains or taking buses. If you have a meeting at the World Trade Center, the Seaport Hotel is your best option. Fidelity Investments built the hotel in 1998 and renovated it in 2006, making it one of Boston's most modern hotels. Its business center boasts a Flyte system with real-time flight status and boarding pass printing, complimentary guest computers with Internet access, color copiers, a fax machine and a six-person boardroom. There's a full-service fitness center, complete with group exercise classes and personal training.
Right on the Water
The Green Turtle Floating Bed and Breakfast, situated on the Charlestown Navy Yard, boasts expansive views of the Boston Harbor. It offers an ideal venue for someone looking for a completely different lodging experience. Getting there is literally half the fun. Forget mundane taxis or airport shuttles. Take the water taxi from Logan Airport. Explore the Freedom Trail, or ask Captain Artie, one of the innkeepers, to arrange a fishing charter.
La Dolce Vita in the North End
"La Dolce Vita" means "the sweet life." In Boston's North End, it may refer to the Italian pastry shops and restaurants that line the streets. The North End is a tight-knit residential community, home to the Italian-American families that own the local restaurants. Hotels are uncommon to this neighborhood, making La Capella an exceptional find. Italian immigrants founded La Capella, meaning "the chapel," in 1941. The current owner bought it in 2001 and turned it into a small, suite hotel. Polished Italian marble distinguishes the common area flooring. The two-, three- and four-room suites feature French doors, which open to private balconies.
South End Sophistication
Enter the 19th-century brownstone that houses the Inn @ St. Botolph, and enter the 21st century. Contemporary designer Celeste Cooper designed the inn, and its suites feature boldly-striped and checkered patterns, kitchenettes stocked with a few simple breakfast items, and large work stations. There's no check-in desk, restaurant or parking lot. Simply enter your key code for your private entrance, and you're home. The South End is just a few blocks from Boston's Back Bay, home to the theater district, shops, restaurants and the convention center.
Parisian Boston
Commonwealth Avenue is a boulevard in Boston, designed to invoke images of the Champs Elysee in Paris. The Eliot Hotel fits right into its Commonwealth Avenue location. Clio, its restaurant, specializes in French-American cuisine. If calories are a concern, the hotel offers free passes to the nearby Boston Sports Club. Rooms feature an interesting combination of crystal chandeliers, zebra-print rugs and Italian marble bathrooms. The Eliot Hotel offers a choice of large rooms or suites, which feature French doors separating the living room from the bedroom.