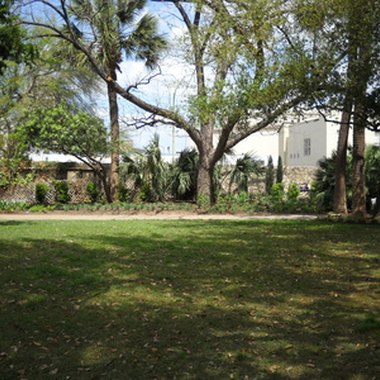 The San Antonio Riverwalk consists of parallel walkways on the San Antonio River lined with restaurants, shops and nightlife venues. Popular attractions along the path include the San Antonio Museum of Art, Arneson River Theatre and the historic Alamo. A variety of hotels offer convenient access to the walkway with a few featuring indoor swimming pools.
San Antonio Marriott Riverwalk
The San Antonio Marriott Riverwalk in downtown San Antonio offers direct access to the Riverwalk and features a connecting indoor-outdoor swimming pool. Located on the eastern end of the Riverwalk, the Marriot is near the Alamo, the Gonzalez Convention Center and Boudro's Texas Bistro on the Riverwalk. The 30-story hotel features a large lobby with lounge area, concierge desk and tiered terrace on the Riverwalk. Accommodations include standard rooms with LCD TVs and suites with an oversize floor plan and balcony overlooking the city. The Cactus Flower Restaurant off of the lobby features Tex-Mex cuisine and southwestern decor.
Drury Plaza Hotel Riverwalk
The 24-story Drury Plaza Hotel sits on the banks of the San Antonio River, offering access to the Riverwalk just outside of the entrance. Guests will find the Majestic Theater, Buckhorn Museum and Aztec Theatre within four blocks. Luxurious guest rooms include flat-panel TVs and lounge chairs. Suites are available with a separate living area and whirlpool tub. Guests receive complimentary breakfast and have access to an indoor and outdoor pool, complimentary soda in the lobby and on-site covered parking.
Hotel Contessa
The Hotel Contessa greets visitors with a large atrium-style lobby with tropical decor overlooking the San Antonio Riverwalk. Guests will enjoy the enclosed rooftop swimming pool and nearby nightlife venues like the Leapin Lizard Lounge and Coyote Ugly Saloon. The all-suite hotel features rooms with a separate parlor, oversize bathrooms and Mediterranean decor. The on-site Las Ramblas Restaurant offers indoor and outdoor dining options, serves Spanish cuisine and includes an attached cocktail lounge.
San Antonio Marriott Rivercenter
San Antonio Marriott Rivercenter offers 1,000 guest rooms and connects to the Rivercenter Mall, where guests will find one-of-a-kind shopping and dining options. Rooms have a work desk, LCD TV and views of the city. A spacious lobby contains a Starbucks and The Bar cocktail lounge, and provides access to the hotel's indoor-outdoor connecting swimming pool. Suites are available with options including a separate living area, luxurious furnishings and multiple bedrooms. Sazo's Latin Grill features Latin and Spanish cuisine along with tapas in a casual, modern environment.