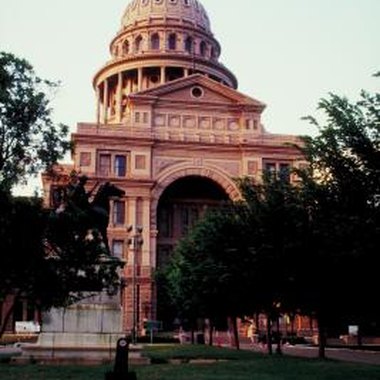 Despite being the capital of Texas, Austin maintains small-town characteristics and has become a destination for unique events and unusual personalities. Portions of the city are easily walkable, and the city's official slogan is "Keep Austin Weird." The diverse population and cultural landscape make Austin appealing to people from all backgrounds. A hotel along I-35 allows you to easily access virtually all of Austin's tourist destinations.
Super 8 Austin Downtown
The Super 8 Austin Downtown is centrally located within walking distance of the state capital building, the warehouse district and the business district. The hotel offers a number of complimentary services, including parking, wireless Internet and a continental breakfast. Additional amenities include a small business center, outdoor pool, and small refrigerators in each guest room. Some guest rooms have sofa beds. Although there is no on-site restaurant, the immediate neighborhood is filled with fast-food and table-service alternatives.
Howard Johnson Austin
The Howard Johnson Austin is approximately halfway between the airport and downtown, making it easy to access all of the area's major points of interest. The hotel is near a local bus stop, offering guests an alternative to fighting traffic and finding parking downtown. Rooms are basic, but clean and comfortable. Hotel amenities include an outdoor pool, complimentary continental breakfast, and a fitness center. Pets are welcome. Nearby restaurants are mostly national chains, serving hearty portions at reasonable prices.
Hampton Inn Austin North
The Hampton Inn Austin North is at the junction of I-35 and Highway 183, convenient for those who want to visit both downtown Austin and the surrounding area. The mid-range hotel offers a free hot breakfast, business center, fitness center and an outdoor pool. All guest rooms offer free wireless Internet, lap desks, HDTVs and granite counter tops. If you do not have time for a sit-down breakfast, the Hampton offers free "On the Run" bags, with breakfast neatly packaged in disposable containers. Nearby restaurants include a variety of chain and independent alternatives.
La Quinta Inn Austin South
The La Quinta Inn Austin South is approximately three miles south of downtown Austin on I-35. The hotel offers a complimentary expanded continental breakfast, free high-speed Internet access, an outdoor pool and free parking. Guest rooms are reasonably spacious with basic amenities. There is no restaurant on site, but eateries in every price range are available within easy walking distance.
References
Photo Credits
Jupiterimages/Photos.com/Getty Images