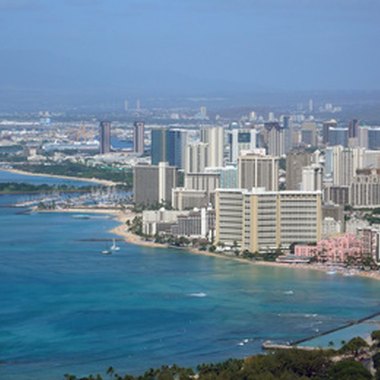 Believe it or not, there are hotels in and around Honolulu that don't charge for parking. Granted, on Oahu where land is at a premium they are an endangered species. There are even a couple of examples right in the resort area of Waikiki. If having a free parking space is high on your priority list, you may also consider staying a bit off the beaten path.
Waikiki Beach Tower – Waikiki
Posh, decadent and right across the street from the beach, the high-rise condominium Waikiki Beach Tower offers one and two bedroom condominiums and complimentary valet parking. Tipping is up to you. The condos are all single-loaded, meaning that they all face Waikiki Beach and all have ocean views. The higher up your unit, the better the view. Choose from cooking a meal in your fully equipped kitchen or dining out at any of the restaurants at one of the nearby Sheratons, the Hyatt or at the International Marketplace's food court. The Waikiki Beach Tower offers a grocery delivery service so you don't even have to check out the local markets unless you are in the mood. Take a dip in the heated pool or grab your beach gear and walk across the street to Kuhio Beach Park and find your own special spot in the sand. Watch the almost nightly torch lighting ceremony from the beach or your oceanfront balcony.
Ilima Hotel – Waikiki
It's hard to miss this high-rise with the sculptured sides and bright pink balconies located a half a block from the Ala Wai Canal. The Ilima Hotel offers studio, one and two bedroom condo style units with full kitchens, and though they have a small lot, free parking. Hotel amenities such as daily maid service, a fitness room, swimming pool and a 24 hour front desk give you the best of both worlds. The closest grocery store is two blocks away on Kuhio Avenue. This area is off the main drag and a bit quieter than staying closer to Waikiki Beach. That famous strip of sand is less than three blocks away. The Ilima is moderately priced and a bargain for families, especially in the two bedroom units, which can sleep up to six people. Just keep in mind that each condo, no matter the size, has one bathroom.
Pacific Marina Inn – Honolulu Airport
Castle Resorts operates the Pacific Marina Inn, located just outside the entry to Honolulu International Airport. This does put you nine miles west of Waikiki. But if free parking and reasonable hotel rates are important, or if you prefer someplace a little more low key than Waikiki, this property might be a viable option. The Pacific Marina Inn offers all the usual amenities including outdoor pool, sun deck and cocktail lounge, in this case the Canoe Hut. You are next door to Keehi Lagoon Park which fronts the ocean and offers a fairly quiet place to watch the sunset. Pearl Harbor and the USS Arizona Memorial, as well as the battleship USS Missouri are just minutes away.
Harbor Arms Hotel - Aiea
One other hotel that offers free parking is in the neighboring Honolulu suburb of Aiea. Part condo, part hotel, the Harbor Arms Hotel offers one and two bedroom units with kitchens or kitchenettes and private balconies. The three story building is hard to miss. A giant tri-shaded blue wave camouflages the elevator shaft and cleverly leads your eye down to the pool and sun-deck area. Hotel amenities also include daily maid service and free wireless Internet. The jogging path that runs along Pearl Bay is only two blocks away. If you feel like doing a bit of shopping or trying out some local food, one of Honolulu's largest malls, Pearl Ridge Shopping Center is three blocks from the property. The beach at Waikiki is only nine miles away. The beach at the Sand Island State Recreational Area is less than a seven mile drive.
Photo Credits
View of Honolulu image by Katja Sucker from Fotolia.com