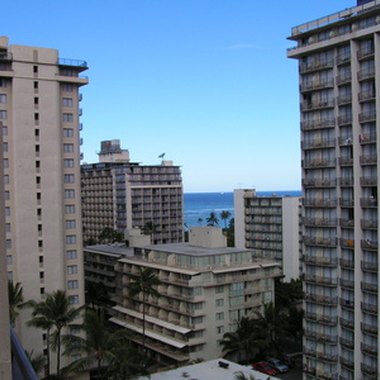 Like any big city, Honolulu experiences its share of traffic congestion. Combined with the high cost of parking at Waikiki hotels, visitors can get quickly soaked with high transportation costs, from taxis to rental cars to parking restrictions. Hotels that offer shuttle service from Honolulu International Airport allow visitors greater convenience and more savings, especially if they are staying in Waikiki.
Hawaii Prince Hotel Waikiki & Golf Club
The Hawaii Prince Hotel Waikiki is on the west side of Waikiki, near the Ala Moana Shopping Center. All rooms have views of the Ala Wai Yacht Harbor. About five minutes' walking distance from the shopping mall and about 15 minutes from the central Waikiki Beach area, this hotel offers comfortable rooms, views and a pool deck, as well as an airport shuttle. The 27-hole golf course associated with the hotel is is about 45 minutes away in Ewa near the Waianae Mountain Range.
Queen Kapiolani Hotel
The Queen Kapiolani offers shuttle service between its location at the east end of Waikiki and the airport. Known as a kama'aina (resident) favorite, the Queen Kapiolani fronts Kapiolani Park on the east and is about three blocks from Waikiki Beach. Ask for a top-floor room, which will give you unblocked views of the park and iconic Diamond Head crater. Open the jalousie style windows to let the trade winds flow through the room. From your room, you may also hear monkeys or elephants at the Honolulu Zoo, which is across the street in Kapiolani Park.
Hilton Hawaiian Village Beach Resort & Spa
Built on 22 acres, this resort development features an impressive number of towers and more than 20 restaurants. Like a city within a city, the Hilton Hawaiian Village has been renovated a number of times over the years, and is suitable for the both the business and leisure traveler. The shopping area contains a number of upscale stores and cafes. Located on the widest stretch of beach in Waikiki, and offering 2,860 rooms, the Hilton is considered to be the only actual resort property in Waikiki, and shuttles serve the resort to and from the airport a number of times a day.
Outrigger Luana Waikiki
Offering airport shuttle service, the Outrigger Luana Waikiki is a "kama'aina" (local-style) hotel favored by many Neighbor Island residents visiting the city. The property brings forth a relaxing vibe in a premium location near the beach and the expansive Fort DeRussy with its grassy, park-like grounds. The Outrigger features a sundeck, Wi-Fi and barbecue area.
Photo Credits
waikiki - ocean view room image by Michelle D. Parker from Fotolia.com