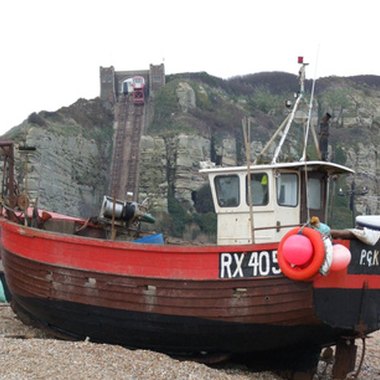 Like most British seaside resorts, Hastings, on England's south coast, experienced gentle decline in the 1970s as British holidaymakers snapped up newly affordable flights to dependably sunny Mediterranean destinations. But Hastings fought back, and the last decade has seen a decided upturn in its fortunes. Now it's a fashionable town with revived hotels and a lively nightlife. Most of the town's hotels are set along the pebble beach, still home to an active fishing fleet.
Zanzibar International Hotel
The Zanzibar International is a small boutique hotel with nine rooms, each themed for a different world destination, including Bali, New York and Egypt. Set in an Edwardian property on the seafront esplanade, the hotel's room rates include a bottle of sparkling wine on arrival and breakfast each morning. Nearby dining options include curry at the Gurkha Palace; Italian food at Pasta Pasta; and contemporary British food, including locally caught fish, at St Clements.
The Chatsworth Hotel
Housed in a purpose-built Victorian hotel with balustraded balconies, The Chatsworth Hotel overlooks Hastings' beach. The hotel's Jali Restaurant offers Indian specialties. Hastings Castle is near the hotel, and guests can make easy work of the castle hill by catching the West Hill Cliff Railway, which quickly ascends the 500-foot incline. Nearby pubs include the Pig in Paradise, the Dripping Well and the Carlisle set right on the seafront and featuring regular live music.
The White Rock Hotel
The White Rock Hotel enjoys a central position on the Hastings' esplanade. The hotel serves a full English breakfast, which guests can enjoy on the terrace with its sea views. The on-site bar offers a selection of traditionally brewed ales and locally produced wines. The bar offers meals and snacks during the day, and evening meals featuring simple English cooking. The White Rock Theatre, staging comedy, drama and dance, is located next door to the hotel.
Travelodge Hastings
For travelers on a tight budget, the Travelodge Hastings -- part of a national chain -- is worthwhile consideration. The hotel is a 10-minute walk from the seafront and the centre of Hastings, and just on the edge of the adjoining town of St Leonards-on-Sea. The hotel has a bar and cafe serving breakfast, lunch and dinner. Restaurants within a 10-minute walk include the Thai Xperience, Fortes Pizzeria and Bay Spice, which serves Indian food.
Photo Credits
fishing boat and cliff railway at hastings. image by Andrew Cartwright from Fotolia.com