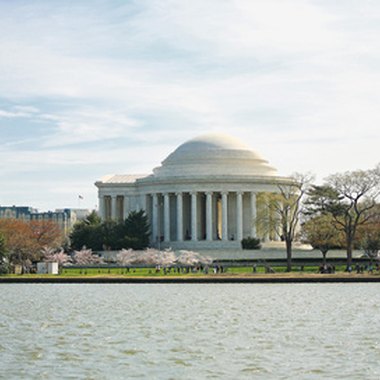 One of the virtues of traveling in Washington, DC is its Metro, described by Lonely Planet as a sleek modern subway with "trains and stations [that] are well marked, well maintained, well lit, climate controlled, reasonably priced, decently staffed, reliable and safe." Choosing a hotel located near one of the stations on the system's Green Line facilitates easy travel throughout the city.
Considerations
The Green Line is one of two Metro lines that bisect the city along a north-to-south axis, running from Greenbelt, Maryland, through the center of the city and out to Branch Avenue, also in Maryland. While some of the city's sights and more interesting neighborhoods, such as Chinatown and U Street, are on the Green Line, most of DC's tourist attractions are not. For this reason, hotels nearest to the two downtown Green Line transfer stations, L'Enfant Plaza and Gallery Place/Chinatown, will prove the most convenient.
Hotel Monaco
Located on the corner opposite the Verizon Center exit of the Gallery Place/Chinatown Station, the Hotel Monaco earned a "Very Highly Recommended" rating from Frommer's and approval as a Fodor's Choice hotel. Set in a mid-19th century marble building, it more closely resembles one of the city's museums than a hotel. The interior is appointed in a colorful and eclectic fashion, and the location sits astride the 7th Street corridor of one of the city's liveliest restaurant districts.
L'Enfant Plaza Hotel
The L'Enfant Plaza Hotel enjoys a location that both tourists and some business travelers will find convenient. Tourists will find the Jefferson Memorial, the Holocaust Museum and the south end of the Smithsonian Museums within a few blocks walk, while the area around the hotel is dominated by federal office buildings. The hotel sits directly atop the L'Enfant Plaza Station exit and even accepts pets. On the downside, because it is located in an office district, the area around the hotel is deserted after dark and there are few restaurants that remain open in the evening.
Marriott Courtyard
This Marriott is one block from a Navy Yard Station exit and three blocks from Nationals Park, making it ideal for those who want to take in a baseball game. Three blocks to the north is Garfield Park, a quiet residential green space favored by residents of Capitol Hill. The hotel sits in a federal office district, so while you will find breakfast and lunch options in the immediate area, everything closes in the evening when the commuters go home. However, the bar and restaurant strips on Pennsylvania Avenue, SE and Barracks Row are half a dozen blocks to the north and east.
Photo Credits
Washington DC_landscape image by TRIPHOTO from Fotolia.com