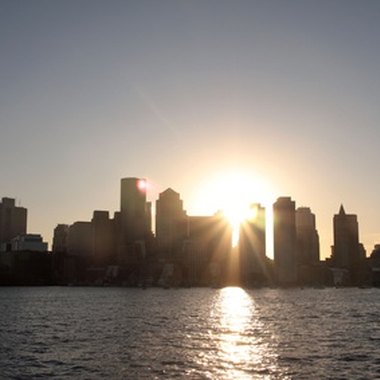 Tourists can see Boston's past and present by journeying through the metro area. This New England city celebrates American history with attractions like the Bunker Hill Monument, but travelers interested in modern amenities can shop at Copley Place and dine at Beacon Hill bistros. Meanwhile, neighborhoods from Charlestown to Fenway provide sightseeing opportunities for travelers interested in 19th and 20th century architecture.
Bed and Breakfasts
The Boston area features several bed and breakfasts that provide cozy accommodations to travelers. The Gryphon House near Boston University offers eight suites with kitchenettes and plush armchairs. Guests can enjoy snacks and hold conversations around the fireplace in the inn's parlor. The Charles Street Inn presents nine rooms with fireplaces and Victorian decor, and offers in-room breakfast service. This Beacon Hill hotel is decorated in statues and paintings dating to 1860.
Waterfront Hotels
Boston's waterfront hotels keep travelers within walking distance of popular attractions. The luxury Boston Harbor Hotel on Rowes Wharf offers facilities ranging from a business center to an on-site car wash, and dining options include Meritage and the Wharf Sea Grille. Another option for guests along the Boston waterfront is the Boston Marriott Long Wharf. The pool area in this hotel features a panoramic view of the Long Wharf. Guests can sample lobsters, crabs and freshwater fish from local anglers at Oceana on the first floor.
Luxury Hotels
Luxury hotels like the Langham Hotel capture Boston's rich history and cosmopolitan spirit. This hotel was built in a former bank building from 1922. Guest rooms mix classical touches like marble floors and brass accents with modern features like MP3 docks. Travelers can stay in shape at the hotel's two-story gym. Chuan Body and Soul in the hotel provides traditional Chinese and Japanese spa treatments in a relaxed setting. The Langham Hotel connects guests to casual dining at Cafe Fleuri and upscale dining at BOND Restaurant.
Boutique Hotels
The Colonnade Hotel is among a small group of boutique hotels in Boston providing cutting-edge accommodations. This Back Bay hotel maintains an outdoor pool and sun deck on the roof open from spring through fall. Music fans can listen to touring artists during the hotel's rooftop concert series each summer. Business travelers are able to stay productive between Boston attractions with a 24-hour business center and 13,000 square feet of meeting space. Brasserie Jo on the first floor of serves French cuisine in a small dining room and sidewalk patio.