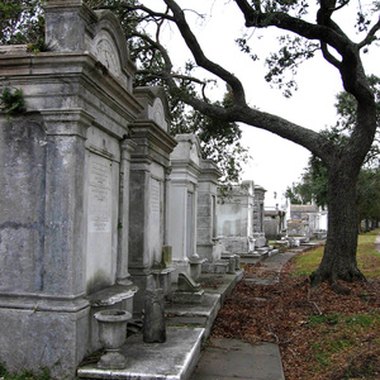 The hospitality industry in New Orleans has burst back after Hurricane Katrina in 2005, with over 30,000 hotel rooms to welcome visitors again to one of America's favorite destinations. The French Quarter area is home to some of the most culturally-distinct lodging quarters in the entire city. Accommodation choices here feature French Colonial architecture with wrought iron balconies, charming courtyards, and lobby cafes that wake guests to the aroma of beignets and chickory in this eclectic district of raucous parties, narrow cobblestone streets and beloved neighborhood cafes.
Historic Hotels
The Hotel Monteleone and Bienville House are two properties in the French Quarter that are listed as "Historic Hotels of America" by the National Trust for Historic Preservation. Hotel Monteleone on Royal Street oozes elegance with liveried doormen, chandeliers, brass and marble, showcasing a renowned grandfather clock that's been chiming for generations and the Carousel Bar in the lobby that rotates every 15 minutes. The Bienville House Hotel on Decatur Street is an intimate boutique hotel with a signature New Orleans iron balcony and flagstone courtyard, while the indoor areas are washed in colorful decorative tiles and hand-painted murals.
Luxury Hotels
Declared to be the "Best Hotel in the Quarter" by Frommer's travel guide, the Ritz-Carlton on Canal Street, just one block over from the infamous Bourbon Street, inhabits the block like a gracious antebellum mansion. The suites here range from 600 to 2,800 square feet, while the separate Maison Orleans club level suites have their own dedicated 24-hour concierge. The Soniat House is a small luxury boutique hotel created from three historic Creole townhouses in a residential section of the French Quarter. Think winding staircases, period antiques, contemporary artwork, lavish Southern breakfasts and afternoon wine service.
Moderately Priced Hotels
Inexpensive hotels are a rarity in the French Quarter, but there are some in the moderate price range that still reflect the classic New Orleans ambiance that visitors are looking for. The cozy Maison Depuy on Toulouse Street is set inside the quieter historic Vieux Carré district of the French Quarter, in the former location of the nation's first cotton press, featuring a scenic courtyard that frames a three-tiered marble fountain. The Bourbon Orleans spreads itself over an entire city block, with a ballroom dating back to 1815, created as a venue for the city's carnival and masquerade balls. One side of the hotel faces Bourbon Street, where guests can witness the late-night revelry if they choose to -- or request a room on the other side if they don't.
Guest Houses and Bed-and-Breakfast Inns
The term "guesthouse" in New Orleans refers to homes that have been converted to to small hotels, similar to bed-and-breakfast inns. Unlike other parts of the country, however, many of the ones in the French Quarter fall into an affordable price range and can be very informal. The Lafitte Guest House is a 1849 French-style manor house with period furnishings scattered throughout the four-story collection of rooms and suites. They also have a cooking school in the summer where they'll teach you how to make the classic New Orleans Hurricanes and Sazerac Cocktails. The 1870 Banana Courtyard is a bed-and-breakfast inn that was once a bordello and has been featured on ABC's 'Haunted New Orleans' television series. They pride themselves in offering "lagniappe," a word that means "a little something extra, free."
Photo Credits
new orleans cemetery image by Alexandra Cockfield from Fotolia.com