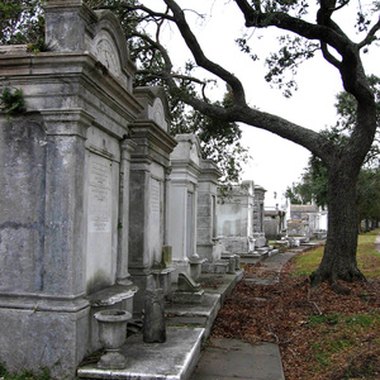 New Orleans' French Quarter, an area that dates back more than 200 years, features places where you can learn about the Louisiana Purchase, listen to live jazz music or try Cajun dishes. People staying in hotels in the French Quarter only have to go for a walk or a short drive to get to the city's art galleries, World War II museum, swamps, blues music clubs, casinos, zoo and aquarium or state history museum. Many French Quarter hotels offer lounge areas with live music, courtyards or guest rooms with balconies.
The Inn on Bourbon
The Inn on Bourbon is located directly on Bourbon Street, famous for its nightclubs and street performers. The hotel, which is located on the site of a former 19th-century opera house, features arched windows, illuminated by street lamps, on its first floor. The hotel offers guest rooms and suites with balconies featuring views of Bourbon Street or the hotel's courtyard, which includes a fountain and tropical plants. You can have a cocktail drink or a glass of wine on a deck beside the outdoor swimming pool or in the hotel's lounge. Some suites have marble tables for guests who want to eat in their rooms. The hotel's concierge service helps visitors to secure cars, reservations at fine-dining restaurants or places on New Orleans sightseeing tours. Hotel packages feature items such as carriage rides, passes to the zoo or meals for up to four people at a nearby cafe.
Hotel Monteleone
Hotel Monteleone, a historic hotel that has been around since 1886 and is considered to be haunted, has been the site of such movies as "Double Jeopardy" and "Glory Road." The hotel's lobby features an upscale ambiance, with chandeliers and a winding staircase. The heated rooftop swimming is open throughout the year, and an on-site day spa offers packages with facials, massages and manicures. It also provides complimentary strawberry lemonade or champagne. Suites feature baths with garden tubs or hot tubs for people who need to unwind. For visitors with pets, the hotel offers treats or dog bowls, upon request. The hotel includes a circus-style bar with live piano music, a French-style cafe with Belgian waffles and paninis on the menu, and a fine-dining seafood restaurant with gumbo and turtle dishes. The hotel's packages include tickets to Broadway shows, spots on riverboat tours, cocktails at the hotel's bar, rounds of golf at a nearby course, champagne or store discounts.
Royal Sonesta Hotel New Orleans
Also found on Bourbon Street, the Royal Sonesta Hotel New Orleans is a European-style hotel featuring a lobby with arches, gardens and guest rooms with gabled windows. The hotel has pools in the courtyard and provides massages in a poolside cabana. Some suites have French doors leading to patios with pool or courtyard views or wrought-iron balconies with Bourbon Street views. The hotel features an extensive art gallery with pieces from American artists such as Andy Warhol and Carl Palazzolo. Every night, the on-site playhouse offers live jazz or burlesque shows. A bistro-style restaurant serves crawfish, jambalaya, Cajun shrimp and catfish meals. Hotel packages include champagne, coupons to local attractions or cocktails at the hotel's playhouse.
Holiday Inn French Quarter-Chateau Lemoyne
Housed in a building from 1847, the Holiday Inn French Quarter-Chateau Lemoyne hotel sits within walking distance of Jackson Square, an area with theaters, historic cathedrals, art galleries and a war memorial. The hotel's courtyard, winding staircase and arched windows set it apart from other Holiday Inn hotels. Once you check in, bellmen and porters will assist you with your bags. Some suites come with luxury amenities, such as fireplaces, hot tubs, parlors or furnished balconies overlooking the courtyard. The hotel's 24-hour lounge offers specialty cocktail selections. The hotel's packages include passes to the National World War II Museum or breakfast at the hotel's cafe.
Photo Credits
new orleans cemetery image by Alexandra Cockfield from Fotolia.com