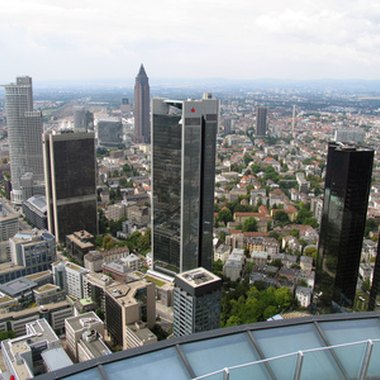 Frankfurt International Airport is the ninth largest airport in the world and a major European inter-continental hub that serves as home base to Deutsche Lufthansa. More than 59 million passengers traveled through its gates in 2009, and a 2011 airport expansion will add a third terminal and an additional runway to meet increasing traffic demands. This expansion will add two new hotels to the four existing hotels in or attached to the airport.
Sheraton Frankfurt Hotel & Towers
The Sheraton Frankfurt is the only hotel with an entrance inside the airport -- at Terminal 1. You could host an entire conference at the Sheraton Frankfurt Hotel & Towers without anyone needing to leave the airport. With over 1,000 guest rooms and 60 banquet rooms, this hotel easily accommodates a party of one or a gathering of one thousand. Once the business day is done, burn off stress in the 4,300-square-foot exercise center or relax in one of the Sheraton's four lounges and restaurants. The hotel's "Body Clock Cuisine" service means you'll have access to breakfast, lunch or dinner 24 hours a day.
Park Inn by Radisson Frankfurt Airport
Less than half a mile from Terminal 2, Park Inn is a convenient option for an overnight stay or a brief business jaunt. An on-site bar and grill, and more than 2,000 square feet of conference rooms with natural lighting and the latest in audio-visual equipment ensures you'll be both well-fed and productive during your stay in Frankfurt. The Park Inn is housed within the Gateway Gardens center, a business and shopping area designed with green living in mind.
Steigenberger Airport Hotel
If you enjoy exercising or swimming while traveling, the Steigenberger Airport Hotel is a good choice. Work out beneath the sun and stars in the "Open Sky" gym, spanning over 6,000 square feet including a 50-foot-long pool. Undergo light therapy treatments in the Bio-Sanarium or treat yourself to a deep-tissue massage from one of the experienced physiotherapists on staff. Cosmetic services are also available. Four on-site restaurants, including a 24-hour bistro, can whip up a healthy meal or indulgent dessert to finish off your evening.
InterCity Hotel
Located on the southern side of Frankfurt Airport, the InterCity Hotel is convenient for exploring Frankfurt while ensuring you'll be close to the airport for an early-morning flight. Your room card doubles as a transit pass; all guests enjoy free public transportation and complimentary access to the DB Lounge at the Frankfurt Airport Station. Aviation-themed lounge Pub JU 52, a convenient stop for a quick drink and a chance to catch the night's game, hosts a barbecue in its beer garden for guests on warm nights.