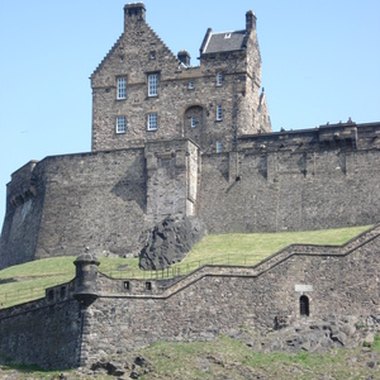 Murrayfield Stadium is home to Scottish rugby, the country's second most popular team sport after soccer. The venue hosts international matches as well as the Edinburgh team. Murrayfield has quick bus connections to the shopping of Princes Street, the spectacle of Edinburgh Castle and the architectural splendor of Edinburgh's 18th century New Town. Usually, Murrayfield is a quiet residential neighborhood, but on international match days the area is buzzing with supporters and pubs are filled to capacity.
Murrayfield Hotel and Lodge
The Murrayfield Hotel and Lodge is a 10-minute walk from Murrayfield Stadium, making it the closest hotel. Set in a handsome Victorian townhouse, the hotel is two miles west of Edinburgh Castle. The hotel's Struan Restaurant offers modern Scottish cooking, including 21-day matured beef from the Buccleuch Estate in the Scottish Borders. The hotel offers free on-site parking to guests, and nearby leisure activities include skating at Murrayfield Ice Rink, part of the stadium complex.
Ellersly House Hotel
A 15-minute walk from Murrayfield Stadium, the Ellersly House Hotel is in an ivy-clad Edwardian country house built in Georgian style and surrounded by gardens. The hotel's Kinellan Restaurant serves contemporary Scottish cuisine featuring locally sourced ingredients. Guests can choose from a selection of more than 50 single-malt whiskeys in the Whisky Bar, which also serves traditional, locally brewed ales. Murrayfield Golf Club, which welcomes visitors, is a 10-minute walk from the hotel.
The Original Raj Hotel, Edinburgh
The Original Raj is a themed hotel with Indian styling throughout and handmade, hardwood furnishings imported from Jaipur. Set in a three-story, 19th century property, the hotel is a 10-minute bus ride from Edinburgh's center and a 10-minute walk from Murrayfield. If soccer appeals more than rugby, the Heart of Midlothian Scottish Premier League team stadium is within 15 minutes' walk. The hotel only serves breakfast, but nearby dining options include the Prince of India and La Bruschetta Italian Restaurant.
Dunstane House Hotel
Housed in a fine Victorian property from 1852 set in landscaped gardens, the Dunstane House Hotel is 10 minutes' walk from Murrayfield. The hotel is near Roseburn Terrace, the start of a riverside walk along the Water of Dean, which meanders for two miles to the city center's New Town. Alternatively, Princes Street is a 10-minute bus ride from the hotel. The on-site Skerries Restaurant serves a selection of Scottish and Mediterranean dishes and the Stane Bar offers light meals and snacks.