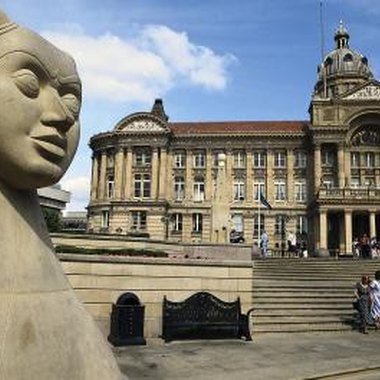 Edgbaston is a suburb of Birmingham, England, a couple of miles west of the city center. The name is well-known in England since Edgbaston cricket ground, home to Warwickshire County Cricket Club, is one of the principal venues for international, five-day cricket matches. Edgbaston's other principal attraction is the Birmingham Botanic Gardens. The area has a selection of hotels, some set in the splendid Victorian buildings typical of Birmingham, which enjoyed its heyday as an economic and manufacturing powerhouse in the 19th century.
The Plough and Harrow Hotel Birmingham
A roadside inn has occupied this site since 1704. The current Plough and Harrow Hotel is housed in a redbrick Victorian building surrounded by mature gardens. The three on-site dining options, Beauforts Pub, Tolkiens Restaurant and the Lounge Bar all offer homemade British favorites. The hotel is a five-minute drive from Birmingham's Jewelry Quarter, home to over 100 jewelry stores. Birmingham Symphony Hall, a 20-minute walk from the Plough and Harrow, offers a program that includes classical music, jazz and world music.
Quality Hotel Birmingham
Occupying a modern four-story building, the Quality Hotel Birmingham is a 10-minute drive from downtown Birmingham. Leisure amenities at the hotel include an indoor swimming pool, fitness equipment, sauna and jetted tub. The on-site restaurant serves an international menu and overlooks the hotel gardens. A 15-minute walk from the hotel, Birmingham Botanical Gardens, founded in 1832, feature 15 acres of planting and glasshouses. Guests at the Quality Hotel use the free, secure car park.
Edgbaston Palace Hotel
Two miles from downtown Birmingham, the Edgbaston Palace Hotel is set in a fine Victorian building with a courtyard terrace where guests enjoy a drink in the summer. The interior retains many original features including wood paneling and fine plasterwork. The hotel restaurant serves an international menu. Alternative nearby dining options include Akbars Restaurant, which serves Indian food, and Pascals, which offers a contemporary British and Mediterranean menu. The Edgbaston cricket ground is a 10-minute drive from the hotel.
Menzies Strathallan Birmingham Hotel
Set in a modern turret-shaped building, the Menzies Strathallan Birmingham Hotel is less than 10 minutes by road from Birmingham city center. The hotel restaurant serves a brasserie-style menu including English and European dishes. Other restaurants within a 10-minute walk include Pinnochio's, which offers Italian food, and Rose Murree, which serves fine Indian cuisine. For those who enjoy a bet, the Rainbow Casino, where games include roulette, blackjack and three-card poker, is a five-minute walk from the Menzies Strathallan.
Photo Credits
Hemera Technologies/Photos.com/Getty Images